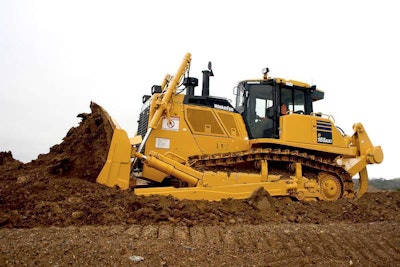 Komatsu has once again expanded its lineup of "intelligent" earthmoving equipment.
With the launch of the D155AXi-8, the heavy equipment manufacturer now offers six machines with what its intelligent machine control tech onboard. iMC is built right into the body of these machines and on dozers offer the ability to run in automatic mode throughout a job—from rough dozing all the way through to finish grading.
The D155AXi-8 is the largest iMC crawler dozer Komatsu has released and its first in the 261-500 horsepower size class. As such, the machine is designed to handle a range of highway construction, large residential or commercial site prep projects.
The dozer is powered by a 354-horsepower Komatsu SAA6D140E-7 Tier 4 Final 15.24-liter diesel engine that enables the machine to emit 80 percent less NOx than the Tier 4 unit the D155AXi-8 replaces.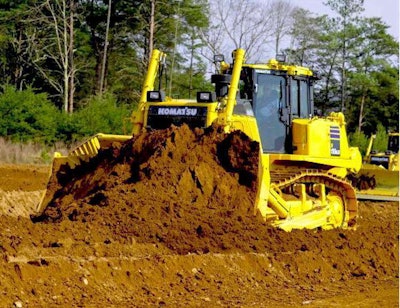 Thanks to iMC's Inertial Measuring Unit and stroke-sensing hydraulic cylinders, the machine has the ability to sense and control blade load. Komatsu says the technology delivers an 8-percent efficiency boost in moving material compared to third-party aftermarket machine control systems during a grading test.
And unlike aftermarket solutions, there are no components mounted to the machine blade, only a small GNSS antenna atop the cab, eliminating the need to climb on the blade to install or remove GNSS antennas, or deal with snagged cables.
For maximum efficiency, Komatsu has included an automatic gearshift transmission and lock up torque converter that enables the operator to select the best gear range depending upon both the jobsite conditions and the load. By transferring engine power directly to the transmission, horsepower loss is eliminated, and fuel consumption is reduced by up to 10 percent.
The addition of Komatsu's Sigmadozer blade, which is designed to roll up soil at the center of the blade, ensures reduced digging resistance. The blade dozes up to 15 percent more soil compared to semi-u blades, while using less power, according to the company.
To enhance operator comfort, Komatsu had included a ROPS pressurized cab with damper mounts that isolate the cab from the machine frame, which softens the shocks and vibrations. The cab also has large windows to provide visibility and is sealed to reduce dust and noise inside the cab.
Komatsu CARE is provided for the first three years or 2,000 hours, and includes scheduled factory maintenance, a 50-point inspection at each service, and two DPF exchanges and DEF tank flushes in the first five years.
Komatsu's first iMC machine was the D61i-23 crawler dozer and was followed by the D51i-22, D37-23 and D39i-23 just before ConExpo 2014. In November the company released the PC210LCi-10, its first iMC excavator which the company says cuts production time by 63 percent.