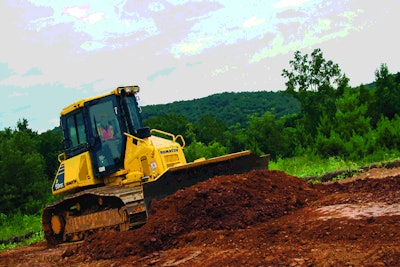 After teasing an extension of its family of integrated machine control dozers last week, Komatsu today has announced the launch of the D51i-23.
Like its big brother the D61i-23, the D51 features Komatsu's intelligent Machine Control (iMC) built right into the body of the dozer from the factory. Unlike third-party aftermarket solutions, there are no components mounted to the machine blade, only a small GNSS antenna atop the cab.
Also unlike aftermarket machine control, iMC offers the ability to run the D51 in automatic mode for the entirety of a job. Thanks to an enhanced Inertial Measuring Unit developed by Komatsu engineers, the D51 can actually maximize blade load and manage track slip all on its own from rough dozing through finish grading.
The D51 will come in two models. The D51EXi-22 is a track-on ground model while the D51PXi-22 is a low ground pressure model. Operating weights range from 27,381 to 29,057 pounds depending on the configuration with a net 130 horsepower at 2200 rpm.
The dozer also offers operators selectable dozing modes that tailor performance. Pre-set blade load settings are also adjustable to match actual material conditions.
The dozer is also equipped with Komatsu's KOMTRAX telematics service. The service sends data such as working hours, location, maintenance alerts, load ratio and fuel consumption to a secure website allowing remote diagnosis of problems and later analysis performance data.
Before March, Komatsu is expected to launch two more iMC dozers, the D37 and D39.