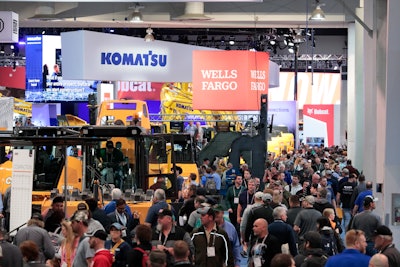 ConExpo-Con/Agg
Around 130,000 construction professionals descend on Las Vegas every three years for ConExpo-Con/Agg, North America's largest construction trade show.
With more than 1,800 exhibitors and 2.7 million square feet of exhibit space, going in with a plan is absolutely necessary.
Here are some tips to prepare for your trip and make the most of your time onsite from veteran attendees, including myself.
(Fun fact: I worked for the Association of Equipment Manufacturers, the owner and producer of ConExpo-Con/Agg, for nearly 10 years before joining the Equipment World team in 2021.)
1. Make a plan
Decide what exhibitors you want to see in advance. It will be challenging to achieve your priorities for the week by aimlessly wandering around the show.
See what OEMs have in store for ConExpo 2023 by visiting our show preview page.
Then, use the exhibitor directory to see where the companies are located and who you can visit at the same time. For example, I dedicate one full day to the Festival Grounds lot. It is the farthest lot from the main convention center, and it can be time-consuming to travel back and forth to it multiple times.
2. Book a hotel with free transportation to and from the show
If you haven't booked a hotel yet, your options at this point are going to be limited and expensive.
Many veteran attendees book hotel rooms one year in advance of the show to secure their desired property at lower rates. ConExpo-Con/Agg also offers reduced rates through the show hotel block.
3. Sign up for education sessions
In addition to acres upon acres of equipment displays, the show also offers more than 175 education sessions.
Don't miss my session, "The State of the Construction Equipment Economy," on Wednesday, March 15, at 9:30 a.m. in West Hall Room 206. I'll be joined by EquipmentWatch Head of Strategic Accounts Brian Dewey and Senior Product Manager James Hamilton to discuss how macro trends in the construction industry impact equipment buying and selling decisions.
4. Getting to & from the show
There are many ways to get to and from the show but be prepared for long lines and heavy traffic during peak travel times in the morning and late afternoon.
Hotel Shuttles: Many hotels on the Las Vegas Strip are designated pickup and drop-off points for free shuttle transportation to and from the show. (Here is the hotel shuttle route schedule. Each hotel shuttle drops passengers off at a designated location on the show campus. Check ahead to see where your bus will arrive.)
Ride-share and taxi services: There are also designated pickup/drop-off areas for ride-shares and taxis. Be aware of these areas when you call for a ride-share. (Refer to the map on the ConExpo-Con/Agg website to view the locations.)
Monorail: The Las Vegas Monorail connects 3.5 miles of the Las Vegas Strip. Several hotels directly connect to the monorail and are also accessible for those not staying in those hotels. Hotels include: MGM Grand, Horseshoe, Flamingo, Caesar's Palace, Harrah's and The Linq.
Exit the monorail at one of the following stops for easy access to the show grounds:
Boingo Station at LVCC – Pickup/drop-off in the Silver Lot, closest stop to South Hall
Westgate Station – Pickup/drop-off in Westgate, for registration and badge pickup
SAHARA Station – Pickup/drop-off in the Sahara Hotel, closest stop to the Festival Grounds
5. Getting around the Las Vegas Convention Center and Festival Grounds
For as many ways as there are to get to and from the show, there are even more ways to get around the 2.7 million square feet of exhibit space.
Express shuttles: Three routes of minibuses continuously run during show hours connecting:
Blue Lot to Festival Lot
Diamond Lot to Festival Lot
South Hall to Diamond Lot
Staff at the pickup/drop-off locations can assist with any transportation questions.
LVCC campus shuttle: These minibuses offer a hop-on/hop-off service around the perimeter of the show grounds. The buses make stops at:
South Hall
Grand Lobby
North Hall
The LVCC Loop: Built by Elon Musk's Boring Company, the underground transportation system provides rides in Tesla vehicles under the LVCC grounds with stops at:
South Hall
Silver Lot
Diamond Lot
Monorail: The Las Vegas Monorail can also be used to get from one side of the show grounds to another. (Note: Unless you specifically purchased a monorail pass with your show registration, you must purchase a monorail pass here. It is no longer automatically included with your badge.)
6. Know when and where to pick up your show badge
Save time onsite by pre-registering for the show. You can pick up your badge at several locations throughout Las Vegas at any time during the week. (Click here to view CONEXPO badge pickup locations and times.) A valid phot I.D. is required to pick up your badge.
In the past, I have picked up my badge at the airport baggage claim or a hotel kiosk.
Registration is open to the public, and you do not need to be invited by your company, a dealer or a manufacturer to attend.
7. Pack comfortable shoes
This is not the time to break in a new pair of shoes. Pack a good pair of sneakers – or heck – even a pair of work boots that you know you can comfortably walk in all day. It's common to put on 20,000 steps or more walking around the show.
If you anticipate needing a wheelchair or motorized scooter while onsite, ConExpo suggests reserving one before the show. To do so, contact ScootAround at 888-441-7575 or book online. Scooters and wheelchairs can also be rented at Blue Lot, Festival Grounds and West Hall.
8. Bring a backpack
From product literature to a place to stash all the free hats you'll receive, a backpack or small sling bag is a must for hands-free swag storage.
9. Pack a powerbank/an external battery charger.
Photos and videos take a toll on your phone's battery. I'm upping the ante this year and packing not one but two external battery chargers, so I'm never left disconnected.
10. Bring a water bottle
Don't forget, you're in the desert. Bring a reusable bottle to keep you hydrated as you peruse the show.
I also recommend packing a hydration multiplier, such as Pedialyte or Liquid IV, especially if you plan on throwing back some adult beverages at night. Alcohol is a diuretic causing you to become dehydrated quickly if you don't drink enough water.
11. Check the weather – and pack accordingly
Don't assume that Las Vegas will be hot and sunny. In 2020, heavy rain during the week meant flooded streets, for which I really could have used a rain jacket and boots. Other essential items I always pack include: a hat, sunglasses, sunscreen, lip balm, and over-the-counter and prescription medications.
12. Visit new manufacturers
Don't get hung up on just visiting your preferred suppliers. There are a ton of new technologies and companies to see.
[Related: What's New, What's Hot at ConExpo 2023?]
13. Download the mobile app
Get all the latest notifications from the show, and bring that plan you made in Tip 1 with you via the ConExpo-Con/Agg App. It is available for both iOS and Android – just search "ConExpo-Con/Agg" in your app store. Download the app before you get onsite, as WiFi can be spotty with that many people in one location.
14. Eat a good breakfast in the morning
There will be concessions and food available for purchase throughout the show grounds, but make sure to fuel up each morning for the day with a good breakfast. Plus, there are plenty of great breakfast spots to explore around town. (My top picks? Hash House A Go Go and Guy Fieri's Kitchen & Bar.)
15. Save 20% off your badge by using coupon code MEDIA20
If you still haven't registered for the show, save 20% using the code MEDIA20 until March 13.
16. Make new friends!
I've met many lifelong friends through my travels to ConExpo-Con/Agg. Strike up a conversation with the folks next to you. You never know what you might learn from your fellow contractor, dealer or industry professional.