Transcript
ConExpo-Con/Agg 2023 is just around the corner, and on this episode of The Dirt, we give a preview on what you need to know about the largest trade show in North America for construction equipment.
With its origins dating back to 1909, the triennial event showcases the latest products and technology as well as glimpses of things to come. This year's show boasts 2.8 million square feet of exhibit space, says our guest, Dana Wuesthoff, vice president of exhibits and event services for the Association of Equipment Manufacturers.
She details what's new for this year's show, which runs from March 14-18 at the Las Vegas Convention Center. (Hints: That convention center expansion area that was under construction at the 2020 show is now open, and Elon Musk will help visitors get around much faster.)
She also offers some tips for first-time attendees and those who might need a refresher since their last show.
So find out more about this exciting event, where major equipment manufacturers and hundreds of other vendors pull out all the stops to show their latest and greatest innovations, by checking out this week's episode of The Dirt.
Equipment World serves up weekly videos on the latest in construction equipment, work trucks and pickup trucks – everything contractors need to get their work done. Subscribe and visit us at equipmentworld.com!
In This Episode:
00:00 - CONEXPO-CON/AGG 2023: What to Expect?
00:26 - The history of CONEXPO-CON/AGG
01:24 - What's New in 2023?
02:52 - Next Level Awards
03:54 - First-Time Attendee Tips
07:03 - What Kinds of Trends Will Be at the Show?
08:31 - See You in Las Vegas!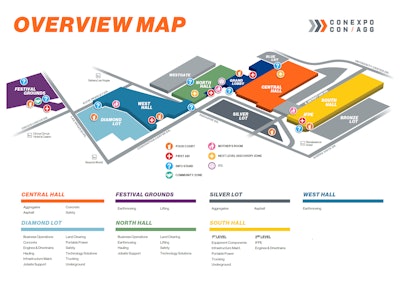 Transcript
Bryan (00:00):
Woo. It's ConExpo season everybody. We are here to talk about ConExpo, history of the show, what to expect. I got an expert here. Dana from AEM is here to talk to us about what we can expect this year from the show. I'm excited. I'm pumped. Let's get to Dana.
(00:26):
Can you kind of give us a little bit of an overview and a history of the AEM show?
Dana Wuesthoff (00:30):
Yes. ConExpo/ConAgg has a much longer history than most people are probably aware of. Hopefully a lot of people know that they were actually two separate shows and they came together. So ConExpo has a pretty long history. The first show of ConExpo was in 1909.
Bryan (00:50):
Wow.
Dana Wuesthoff (00:50):
In Columbus, Ohio, actually. That kind of had a couple evolutions. The first ConAgg was held in 1928 in Detroit, Michigan. And so the first time those two shows came together to form ConExpo/ConAgg, as people know it, today was in 1996 in Las Vegas. And then the other show that is also co-located with ConExpo/ConAgg, the IFPE show, I-F-P-E, that joined the party in 2002. That is a little bit of a quick history of the ConExpo/ConAgg and IFPE shows as people know them as today.
Bryan (01:24):
What's new for 2023? What can we expect? What can people be excited about?
Dana Wuesthoff (01:27):
Lots of new stuff. So I'll start with pointing out a couple of probably the biggest and most visual changes from our 2020 show. And it has to do with the show layout. So we're utilizing a new convention center exhibit hall in Las Vegas. So the West Hall and the Diamond Lot are going to be on the Las Vegas Convention Center campus. So for folks that had been at our 2020 show, that was a giant construction site in 2020. And for veterans of the show, that's going to be the location of the Gold Lot. So in 2023, that'll be just chock-full of exhibits.
(02:02):
Another change to the facility that I'm really excited about in '23 is the Tesla powered convention center loop. It's an underground tunnel quickly getting people between various stops connecting South Hall, North Hall, that New West and Diamond lot that I had referenced. So a pretty neat option to help save some steps for people when they come and visit the show.
(02:24):
A couple other things that were a little bit more show focused that I am really excited about. We're doing a new community zone area. That's going to be located in our festival grounds location, really just going to be a great place for attendees to connect with one another, a place to just sit down, rest your feet, relax, recharge, do some networking. We're going to have some great content there from some industry thought leaders. We actually just recently announced we're doing our inaugural version of our Next Level Awards. And we do do have 10 finalists and attendees are going to be able to visit their booths, see what that Next Level Award finalist product is about, and they actually get to vote on site. And so during the show, we're going to collect those votes and then we're going to announce the contractor's Top Choice Award on Thursday of the show. So very excited about that.
Bryan (03:19):
And just so the audience that's not familiar knows what is the Next Level Award, what does that entail? What is it for?
Dana Wuesthoff (03:25):
It's companies that are solving common problems in maybe a unique or a different way and something that might have wide scale application across industries. And so we were really excited to do that program. We did partner with the AGC and their members to help judge that. And we're pretty excited to see how all of that onsite voting shakes out to who's going to be that Top Choice Award.
Bryan (03:54):
Believe it or not, as involved in the industry as I am, this is going to be my first time attending a proper ConExpo. I was supposed to go in 2020, but we all know how that shook out.
Dana Wuesthoff (04:03):
Oh my goodness.
Bryan (04:04):
For first timers, do you have some tips for us to get the most out of the show?
Dana Wuesthoff (05:30):
Yes, I definitely do. The biggest piece of wisdom that I can share for you is truly take care of your feet. It is a very, very large show. You will be doing a lot of walking. Make sure you have lots of comfortable shoes, break them in now. And really that goes along with number two. Come in with a plan. It is such a big show. It is not something that you can really effectively just sort of show up and wing it. You want to have some idea of who do you want to see, what products are you looking for, where are they located? We are spread across multiple venues, halls, and lots. We're talking over 2.8 million net square feet of exhibits.
Bryan (06:12):
Wow.
Dana Wuesthoff (06:13):
2000 exhibiting companies. It's a lot of ground to cover and you're not just going to walk up and down every single aisle.
(06:19):
So you really got to come in with a plan. Just do a little bit of it. We have great online resources. You can see a whole directory of exhibitors. You can search by product name. You can search by brand name. So you can at least come in with a little bit of a plan and some comfortable walking shoes. So those are my huge two takeaways.
(06:38):
And then of course we do have a mobile app, so that's certainly a good onsite resource. And then just some of the other normal travel things like hydration. It's so easy to get dehydrated when you travel in general and Vegas in particular with its climate. So really just you have to take care of your body, take care of yourself, right? Hydrate yourself, take care of your feet so you can be comfortable and be effective as you're visiting the show.
Bryan (07:01):
Great tips. Well, my last question is, for those of us in attendance, what kind of trends can we see on both kind of the equipment side and then on the technology side? What are we expecting to see out there?
Dana Wuesthoff (07:13):
I really think people are going to see more sustainability in action. There's been some significant movement towards more sustainable practices, products, technology, waste reduction, gosh, so much electric and hydrogen powered construction equipment and alternative fuel options. We're seeing a lot of that and I think that people are really going to be able to see that in action and see that in different booths and really just start to see what's coming next and what they need to think about and how they can be prepared to utilize that for their business.
Bryan (07:48):
I'm excited. There's so much changing in the industry right now and not just to make the machines better, a lot of the technology's really addressing the lack of a labor force that we're facing. And so I'm really excited to see how the different companies are coming to the table to address that issue. I'm pretty excited.
Dana Wuesthoff (08:05):
Yes, we've been seeing a lot of that. And I think, too, you just said changing labor and automation. What role does that play in it and how quickly is that going to start showing up on job sites and how are people going to have to prepare for that? And coming to the show is where they can just get that hands-on experience and demonstrations and talk to these manufacturers about what's coming and how they can be ready for it.
Bryan (08:30):
Yeah, absolutely. Well, Dana, thank you so much for your time. This has been super informational and now you've got me all amped up.
Dana Wuesthoff (08:37):
Well, thank you Bryan. I look forward to seeing you out in Las Vegas.
Bryan (08:41):
Well, there you go guys. Dana laid it all out for you. The history of the show, what to expect, it's all there. I'm excited. I'm pumped. I can't wait to see you guys there. As always, thanks for watching and we'll see you guys at ConExpo and catch you on the next episode of The Dirt.