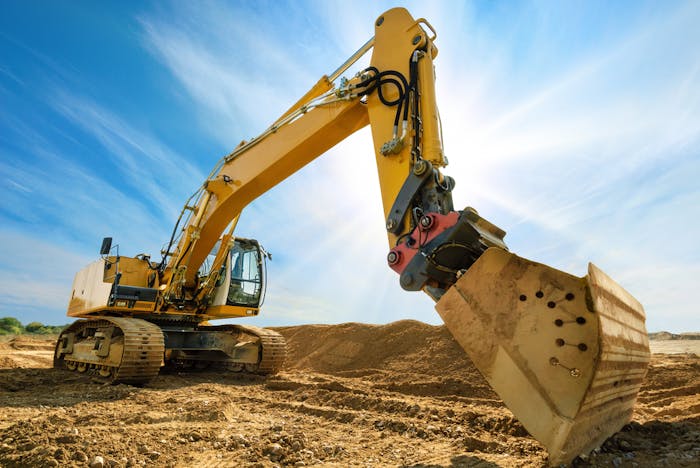 The overall U.S. economy is operating at 22 percent below pre-pandemic levels but should rebound by the first half of the year, says Richard Branch, chief economist for Dodge Data & Analytics.
For the construction industry, however, the rebound picture is not as bright, Branch said March 5 during Dodge's first-quarter outlook.
"Construction is certainly one of those industries that will take time for the recovery to really dig in and take hold and gain traction," he said.
Total construction starts declined 9% in 2020 and are expected to rise 4% in 2021. His prediction for this year, however, is still about $46 billion shy of the industry's peak in 2019.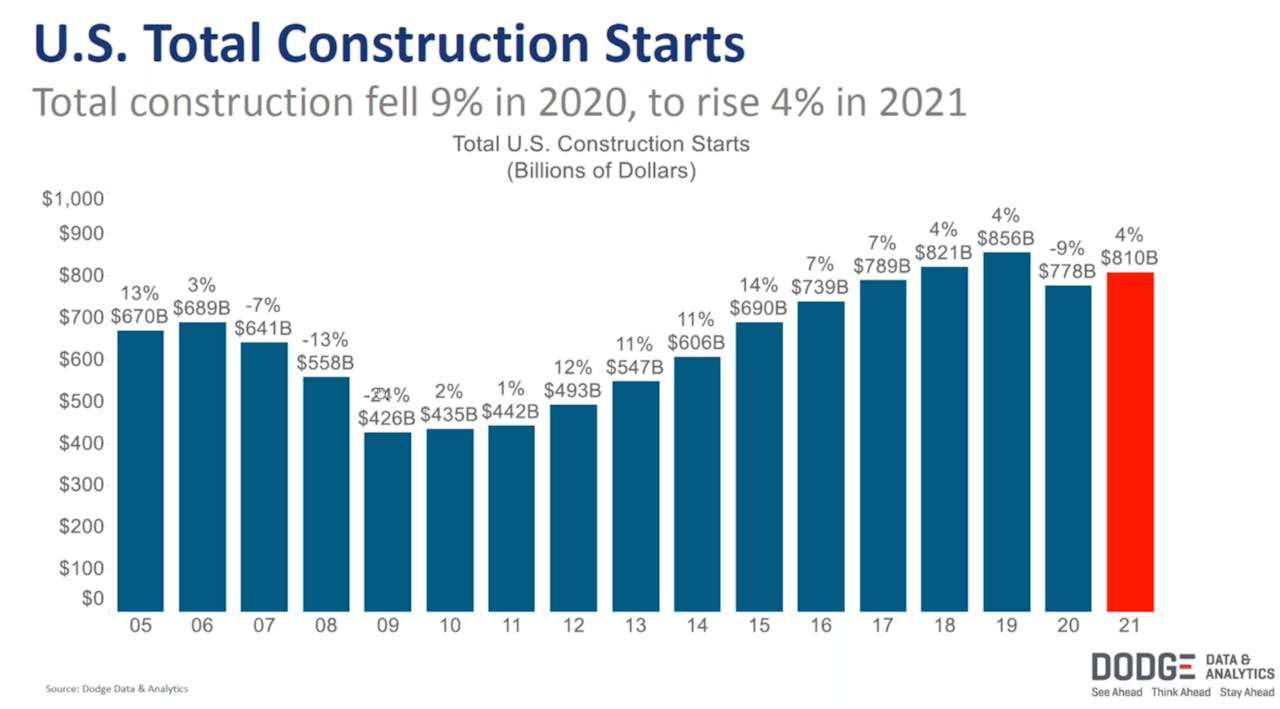 Aside from the pandemic, one of the biggest stumbling blocks has been rising material prices.
Construction costs are up 5.4% from a year ago. That includes lumber and metal prices. He noted that similar inflation was seen in 2017 and 2018, but then "the U.S. economy, and indeed the construction industry, was in much better shape than it is now."
The increased prices and supply shortages could lead to project delays. He predicted material price inflation would continue through 2021.
The Associated General Contractors has called on President Joe Biden to review and rescind trade tariffs, such as for steel and Canadian lumber, that have contributed to price increases.
"Left unchecked, these rising materials prices threaten to undermine the economic recovery by inflating the cost of infrastructure and economic development projects," said AGC CEO Stephen Sandherr.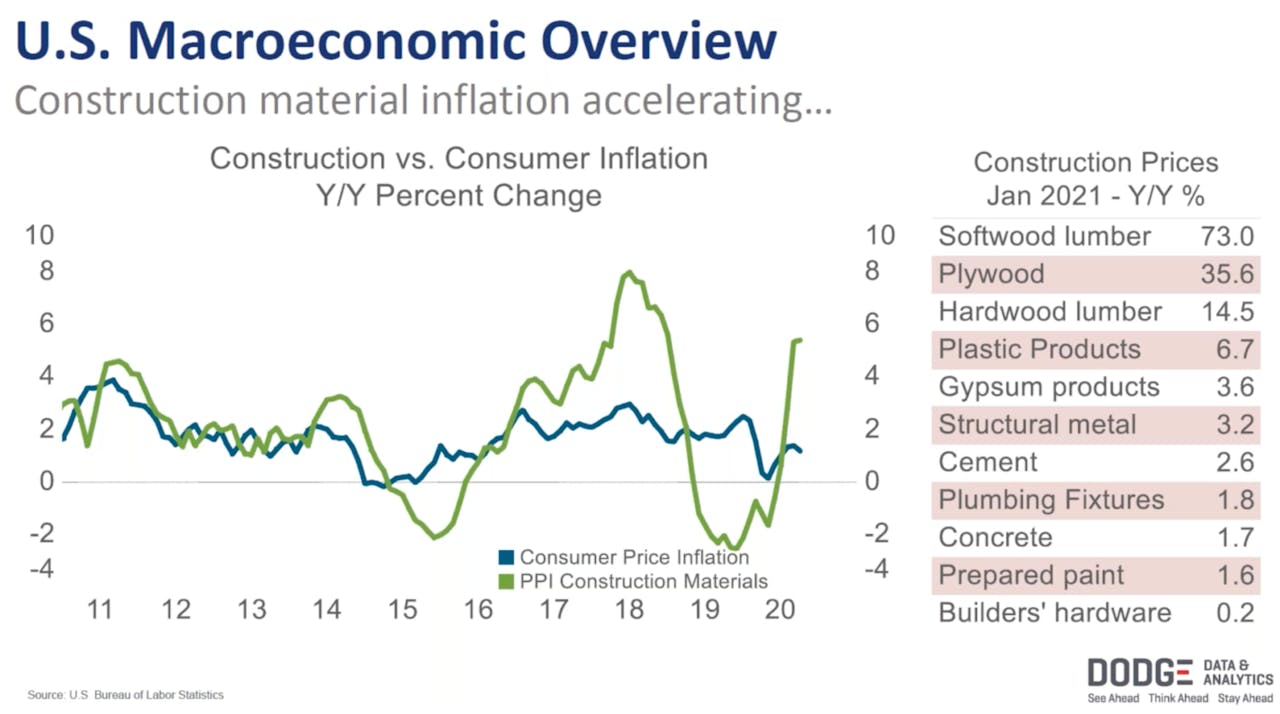 As for when the construction industry will fully emerge from the pandemic-induced slowdown, Branch presented a mixed picture, with some segments already exceeding 2019 construction starts, while others lagged and will not fully rebound this year.
Single-family housing starts were the bright star of the past year, having already exceeded pre-pandemic levels, Branch said. They rose 14% in 2020, and he expects a 5% increase this year.
Warehouse starts, led by Amazon distribution centers, were another bright spot. Last year was a record year for the sector, with a 6% increase. Branch expects 2021 to be another record-breaking year with an 8% increase in starts.
Highways and bridges have also fared well, rising above 2019 levels. Bridge construction starts are expected to rise 5% this year after a 12% increase last year. Street and highway construction starts rose 8% last year and are expected to rise 1% this year.
Environmental public works projects, such as dams and reservoirs, water systems and sewage systems, should all top 2019 levels this year, according to Branch. Overall, this segment should increase 6% in 2021 after falling 3% in 2020.
Health care building starts should also slightly top 2019 levels this year, rising 9% after falling 7% in 2020.
Individual segments of commercial building outside of warehouses still face longer recovery times beyond 2021.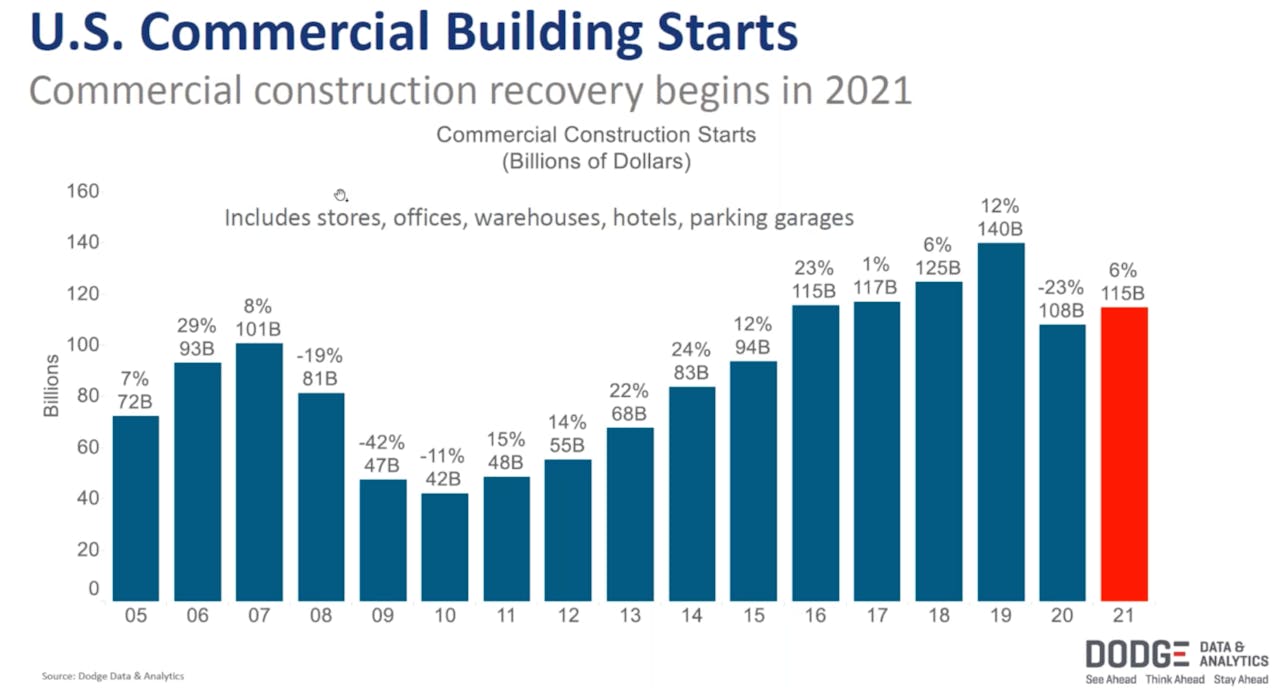 The AGC noted that February's job report showed a decline of 61,000 construction jobs in February due to severe weather and continued decline in the nonresidential sector.
"Despite recovery in some parts of the economy, private nonresidential construction is still experiencing many canceled and postponed projects and few new starts," AGC Chief Economist Ken Simonson said in a news release.
Associated Builders and Contractors' national chief economist, Anirban Basu, however, was not as worried about the February employment drop in nonresidential construction, saying it was mostly due to severe weather in the South. The ABC's recent backlog indicator for January showed rising contractor optimism and a slight rise in backlog. He also cited increasing vaccinations and additional Covid stimulus as boosting outlook. "All of this is consistent with ABC's long-standing forecast that the second half of 2021 will be spectacular for economic growth," Basu said in a news release.
He added there is a concern the economy could heat up too quickly, which could hurt nonresidential construction as interest rates and inflation rises. He added, though, that "such concerns are longer-term and speculative."
But not all nonresidential sectors will grow rapidly, predicts Branch.
Hotels and retail starts have seen some of the biggest losses during the pandemic, according to Branch. Other sectors are slowly recovering but are still below 2019 levels.
Hotel starts will be down 6% after dropping 50% in 2020. They will be about $10 billion below 2019, he says.
Retail starts will climb 7% after they fell 27% last year. They will be about $4 billion below 2019 levels.
Office building starts will rise 8% after falling 22% in 2020. They will be about $8 billion below their peak in 2019. 
The institutional sector, outside of health care and public buildings, will not fully recover this year. Sectors, such as education and recreation, will see further declines, Branch says.
The $1.9 trillion Covid stimulus legislation that passed the U.S. Senate on March 6 and is expected to pass the House on March 9 will help stabilize the institutional sector, as it includes $350 billion extra for state and local governments to help recover revenue drops during the pandemic, Branch said.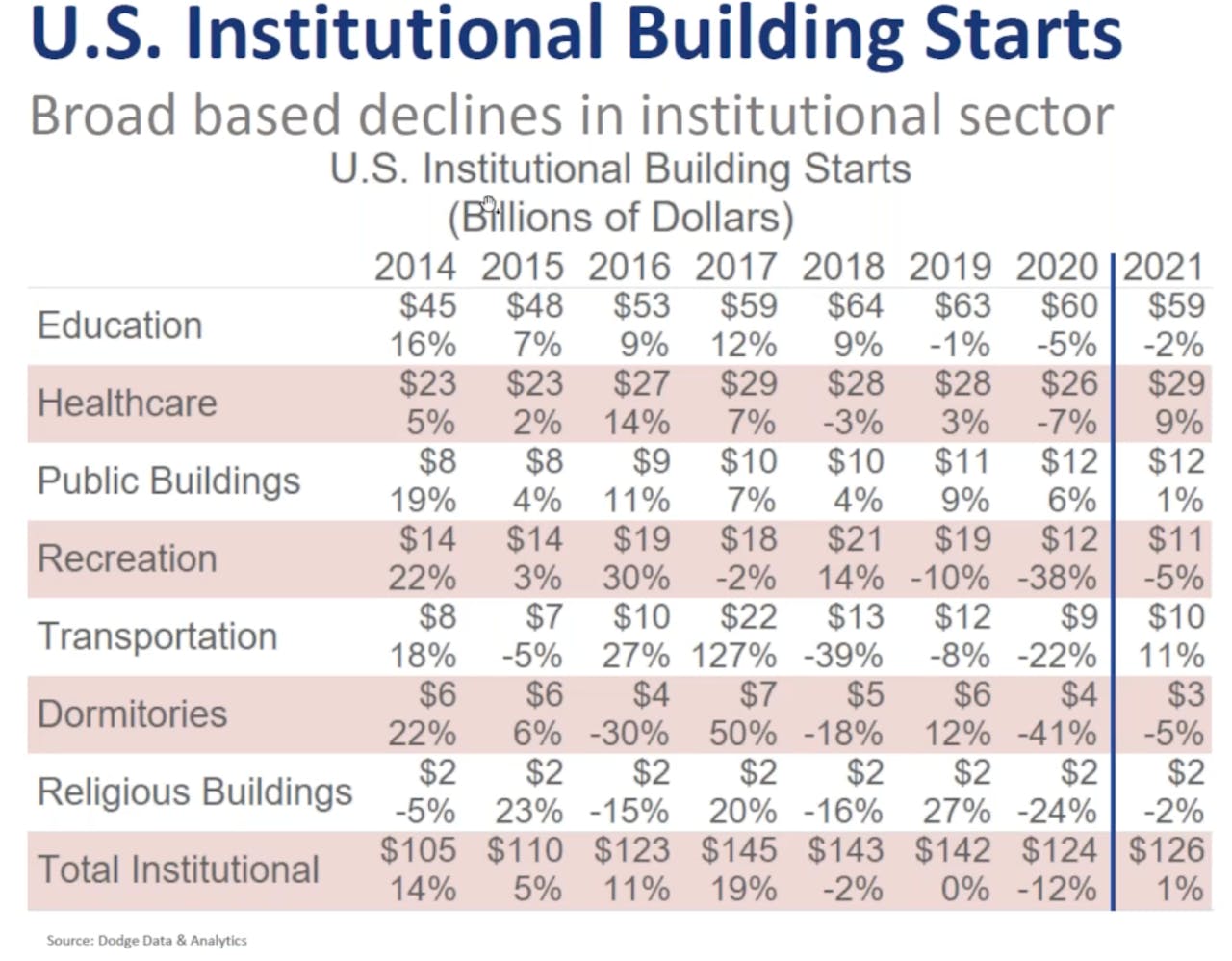 As for when the lagging construction sectors will bounce back to pre-pandemic levels, Branch predicts that overall institutional and commercial starts will not fully recover until at least 2024.
On the nonbuilding side, which includes power and gas plants, the recovery will occur in 2023, but could be 2022 if a large federal infrastructure package is passed this year. Biden has made this his next priority after passage of his $1.9 trillion Covid-relief plan. His Build Back Better proposal, details of which are expected soon, calls for about $2 trillion in infrastructure spending.
Branch did not add an infrastructure program into his forecast. But if it does come, he predicted high impact for public works, highways and bridges, transit and high-speed rail.
He also expected boosts in renovation projects due to Biden's climate initiatives. "Part of the Build Back Better program was heavily centered on climate change," he said. "So should there be dollars set aside to make buildings more energy efficient, whether that's through HVAC systems, better building envelopes … I think that could certainly be a sleeper category in an infrastructure package."
Projects for renewable energy, such as wind and solar, will experience medium impact from an infrastructure plan, he predicted.
Smaller impacts would be seen for data centers and internet infrastructure, as the Build Back Better plan includes expansion of rural access to broadband.
Branch also predicted a boost for health care infrastructure even though the plan doesn't specifically mention it. "But I think the one thing that the pandemic has certainly laid bare is the lack of surge capacity in terms of inpatient beds, bed counts," he said. "I wouldn't be surprised if we did see this market get some dollars through an infrastructure program to kind of beef up that infrastructure a bit."
Whether a broad infrastructure measure passes, he does believe the FAST Act transportation bill will be reauthorized at $300 billion, providing five years of increased surface transportation funding starting October 1, the day after the current funding expires. One question would be whether this amount, which he has already factored into his forecast, would be folded into an infrastructure plan or remain separate.
"So overall in terms of infrastructure, I'm hopeful that we would see this go through unaltered in terms of the massive dollar amount," he said of a $2 trillion infrastructure plan. "I do think the political reality here would say otherwise. I do think it's realistic to project that maybe half of that goes through, a trillion dollars becoming law."
If the infrastructure package is approved at $1 trillion and the FAST Act funding is rolled into that, it would yield an overall $700 billion increase in federal funding to his forecast.
"That's a big number. That would be certainly a positive for the sector," he said.
But its effect would not likely occur this year.
"We probably wouldn't see it this year in terms of dollars in 2021," he said. "This would probably be more 2022 and beyond."
He also predicted a changed construction industry after the pandemic, but how it would look is still uncertain. It would not be a repeat of the recovery following 2009. He recommended that contractors be watchful for new opportunities.
"The construction sector might look very, very different to what it did prior to the pandemic," he said, "… so make sure you're not buying into the fact that this is a copy-paste recovery from what you did back during the Great Recession.
"Over the course of this year, it's going to be harder and harder to find those projects, at least in the first half of this year. So you've got to make sure you stay aggressive and be very creative in terms of your business plans."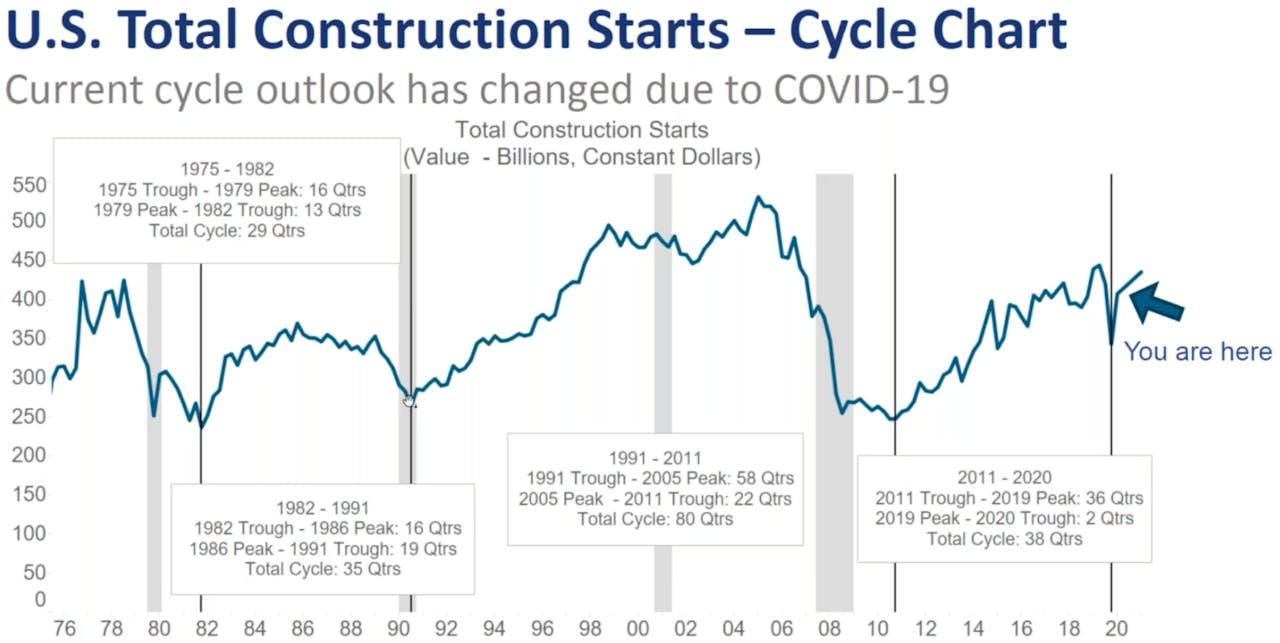 Dodge Data & Analytics 
 Editor's note: This story has been corrected to reflect that total construction starts dropped 9% in 2020.