Vermeer FT100 forestry mulching tractor
Fecon has bought Vermeer's line of forestry mulching tractors and will distribute those and other products through Vermeer dealerships.
Fecon has begun moving production operations of the Vermeer FT100 and FT300 forestry mulching tractors to its plant in Lebanon, Ohio.
The company says the distribution strategy will be rolled out this year to Vermeer dealerships. It gives Fecon access to a large dealership system for its products and gives Vermeer dealers a broader range of products to sell in the forestry sector, the companies say.
"Fecon will start the process with a select, yet global group of Vermeer dealers in 2021, as well as strategically specify products and methodically expand from there," Fecon says.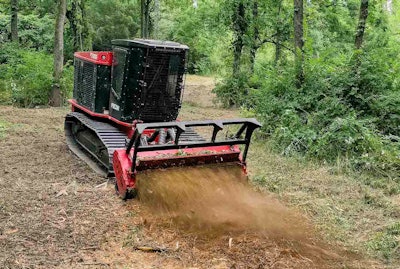 "With their extensive coverage and high standard of customer support, as well as the professional and strategic Vermeer sales organization, we are certain that both organizations will benefit from the partnership," says Fecon CEO Bob Dieckman.
"With a lineup of products that support the landclearing, utility right-of-way and fire mitigation markets, their mulching attachments and tractors will give our dealers a broader portfolio to support those customers we are already working with in those markets," adds Vermeer President of Industrial Solutions Doug Hundt.
Fecon currently manufactures four landclearing tractor models, ranging from 140 to 600 horsepower. Vermeer's FT100 is rated at 120 horsepower and the FT300 at 300 horsepower.