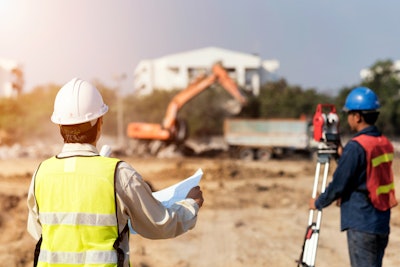 A new survey reports that 75 percent of contractors have seen an upcoming project canceled or postponed.
That's up from 60 percent in August and 32 percent in June, according to the Associated General Contractors.
The recent AGC survey also shows that 78 percent of contractors have faced delays or disruptions on current projects. That's up from 57 percent in June.
Most of those delays, 42 percent, were due to a shortage of construction materials, equipment or parts. The other two major reasons: shortage of craftworkers and subcontractors (35%) and a potentially infected person visited their jobsite (31%).
"The survey results make it clear that the months-long pandemic is undermining demand for projects, disrupting vital supply chains and clouding the industry's outlook," says AGC Chief Economist Ken Simonson.
Survey highlights
Here are some other highlights from the survey, responded to by 1,077 contractors between October 7 and 19:
54 percent reported delayed or canceled supply deliveries.
35 percent reported that their business volume has risen or stayed the same from a year ago.
43 percent reported business volumes less than a year ago. Of those, 33 percent expected a rebound to take more than six months, and 10 percent expected it to take less than six months.
37 percent expected to add workers in the next 12 months; 20 percent expected a decrease; 42 percent expected no change.
30 percent have furloughed or terminated employees because of the pandemic.
31 percent reduced their travel budget. 26 percent banned travel to industry meetings and events not related to projects; 20 percent had not changed travel plans; and 10 percent had banned all travel.
Only 23 percent had started work on new or expanded construction as a result of the pandemic, which is about the same as in June.
Eyes on Congress
When asked how Congress should address the economic fallout from the virus to help their businesses, 53 percent of contractors advocated increased overall infrastructure investment and 29 percent advocated multi-year surface transportation reauthorization with higher funding levels.
Other actions they would like Congress to take:
26 percent want liability protection from employees who get infected by COVID-19.
20 percent want Congress to "address federal unemployment benefits that serve as artificial barriers to returning people to work."
18 percent want more funding and flexibility for loan programs to maintain cash flow.
16 percent want enactment of a "pandemic risk insurance/COVID-19 business and employee continuity and recovery fund."
15 percent want Congress to "address funding shortfalls for multi-employer pension plans."
14 percent want more funding for state departments of transportation to prevent project delays and shutdowns because of reduced revenue due to the pandemic.
18 percent said no additional legislation is needed.
The AGC is calling on Congress to return to session after the election and enact new infrastructure investments, liability reforms and an additional round of Paycheck Protection Program loans.
"As our survey shows, the pandemic and efforts to mitigate its spread have deeply wounded the economy, depressing demand for many types of commercial construction projects," said AGC CEO Stephen E. Sandherr. "Congress can end the downward economic slide and help create needed new construction jobs by passing measures to boost demand and protect honest employers."