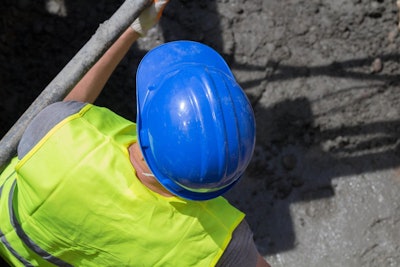 A Missouri plumbing contractor whose employee died in a trench collapse in 2016 faces proposed penalties of nearly $300,000 for again having workers in an unprotected trench, according to the U.S. Occupational Safety and Health Administration.
Donald Meyer was buried alive in December 2016 when the 8-foot-deep trench he was in near Kansas City collapsed. The 33-year-old single father was installing a sewer line to a residential area for Arrow Plumbing LLC.
Arrow Plumbing of Oak Grove, Missouri, was cited by OSHA for failing to provide adequate cave-in protection, among other violations, in 2018 for the fatal collapse. It reached an agreement to pay a civil penalty of $225,000 and hire a safety consultant to design and implement a trench safety program.
Then last August, Arrow Plumbing employees were found again working in an unprotected trench, OSHA says.
On August 20, workers were in a 9-foot 3-inch-deep trench at a residential construction site in Grain Valley, Missouri, that did not have a trench box or other cave-in protection, and a spoil pile was found within 2 feet of the trench's edge. Both are repeat offenses from the 2016 incident, according to the OSHA citation dated February 12.
The trench also had active, unsupported and unprotected gas and electric lines across it, which exposed workers to electrical and asphyxiation hazards, and on August 20 and 21, workers were in the trench without hardhats while exposed to struck-by hazards from tools, materials and spoil piles, the citation says.
In all, the company faces proposed penalties of $299,590. Of that amount, $273,064 is for the two repeat violations.
OSHA also accuses Arrow Plumbing of failing to abide by the 2018 agreement to implement a trench safety program, as well as to make sure its employees completed OSHA training courses on construction and trenching. The company also did not pay the $225,000 civil penalty from the 2018 agreement, OSHA says.
"After a fatal trench collapse led to an employee's death, Arrow Plumbing's owner signed a settlement agreement with OSHA in September 2018, in which he agreed to put in place a comprehensive trench safety program," said Kimberly Stille, OSHA regional administrator in Kansas City. "Yet Arrow Plumbing failed to implement the agreement. Employers must follow appropriate trench safety procedures and protect workers from the serious and sometimes fatal dangers of working in unprotected trenches."
An attempt to reach Arrow Plumbing for comment was unsuccessful.
The company has 15 business days from receipt of the citations and penalties to comply, request an informal conference with OSHA's area director, or contest the findings before the independent Occupational Safety and Health Review Commission, according to OSHA.