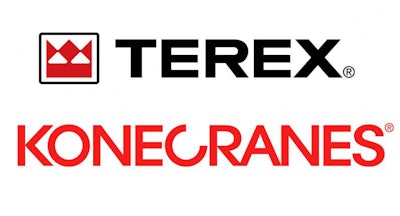 Terex has announced that it has completed the sale of its Material Handling and Port Solutions Business to Finnish manufacturer Konecranes.
Announced in May 2016, the sale finished at a price of $595 million plus €200 million in cash, and 19.6 million newly issued class B shares representing a 25-percent interest in Konecranes, Terex reports.
Terex says the final transaction in the MHPS sale to Konecranes is subject to post-closing adjustments for cash, debt, working capital, MHPS actual 2016 EBITDA and the closing of the sale of the Stahl CraneSystems business.
"The sale of our MHPS business is a major milestone on our journey to become a more focused, high performance enterprise," says Terex President and CEO John Garrison. "…Also, we will move forward over the coming weeks with our planned debt reduction, significantly reducing our interest expense and leverage as we enter 2017."
The sale was the result of an awkward back and forth between Terex and two suitors interested in buying the company outright: Konecranes and Chinese heavy equipment maker Zoomlion. After announcing what appeared to a be done deal in the fall of 2015 with Konecranes, Terex officially walked away from the merger in May 2016 after receiving an all-cash, $31-per-share offer from Zoomlion.
However, before it dropped talks with Konecranes, Terex agreed to sell its MHPS business to the Finnish OEM. But once the MHPS business was no longer part of the deal, Zoomlion reneged on its offer to Terex.
Subsequently, Terex divested all of its remaining earthmoving equipment offerings. The company sold off its compact construction equipment business—which manufactures midi/mini excavators, wheeled excavators and compact wheel loaders—to Yanmar; exited the skid-steer and compact track loader business (those machines are now made and marketed under ASV); and sold its UK-based operation—which manufactures backhoes, site dumpers and compact compaction rollers—to French manufacturer Mecalac.
In just one calendar year, Terex consolidated its corporate structure from five segments to three: aerial work platforms (Genie), cranes (Demag and Terex) and materials processing (Powerscreen, Finley, Evoquip).