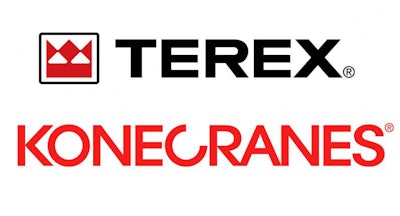 Cranes and heavy equipment manufacturer Terex will merge with Finnish competitor Konecranes in an all-share deal, the companies announced in a joint release Tuesday.
The new company will be called Konecranes Terex and will be based out of Finland. It is expected to bring in $10 billion in revenues and allow both companies to fight off "low-cost emerging market players," i.e. Chinese manufacturers, with enhanced scale.
In 2014, Terex brought in $7.3 billion in revenues while Konecranes revenues were $2.6 billion.
Konecranes chairman Stig Gustavson called the deal a "defining step" in the history of two companies who share a common culture.
"With a focus on Lifting and Material Handling solutions, Konecranes Terex will be in an excellent position to deliver enhanced growth in revenue and margins through several strategic advantages, including significant cross-selling opportunities," Gustavson said in a statement.
Terex shareholders will own approximately 60 percent of the new company with Konecranes shareholders owning the remaining 40 percent.
"This merger brings together two great businesses and through synergies provides another lever that is within our control to deliver value-creation to both the shareholders of Terex and Konecranes," said Terex CEO Ron DeFeo in a statement. "We have a deep respect for Konecranes and look forward to joining forces with them to build a stronger and more diverse company that will be in an excellent position to succeed in a dynamic and highly competitive global industry."
Upon completion of the merger, Gustavson will become the chairman of Konecranes Terex and DeFeo will become the company's CEO. Though the new company will be based in Finland, it will maintain "significant headquarters" in both Hyvinkää and Westport, Connecticut.