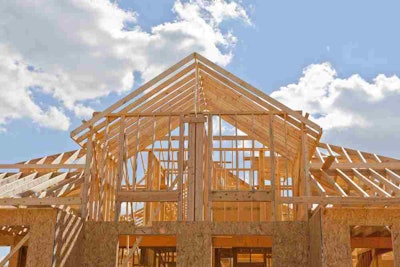 Sizable gains in homebuilding again led to an increase in total U.S. construction spending in September.
Construction spending increased 0.6 percent to $1.094 trillion during the month, according to preliminary data from the Commerce Department.
Total spending is up 14.1 percent year over year.
Private homebuilding increased 1.9 percent to $395 billion and is now up 17.1 percent over September 2014.
Single-family construction in the private sector saw a 1.3-percent gain during the month to $222 billion, while apartment construction rose 4.9 percent to $57 billion. Single-family spending is up 13 percent over the September 2014 mark, while apartment construction spending is up 28 percent.
Total private spending rose 0.6 percent to $794 billion and is up 16 percent over the year-ago figure.
Total nonresidential construction spending fell 0.1 percent to $692 billion. The largest percent gains for the month came from religious and water supply construction, up 5.6 percent and 4.3 percent to $3.4 billion and $14.5 billion, respectively.
Transportation was another notable increase, up 1.6 percent to $46 billion.
The largest nonresidential decreases came from conservation and development, down 6 percent to $8.1 billion, communication, down 2.7 percent to $18 billion and power, down 1.7 percent to $91 billion.
Total government construction spending rose 0.7 percent to $300 billion on 1.2 and 0.7 percent gains from residential and nonresidential, respectively. Notably, government construction spending is up 9.4 percent year over year.