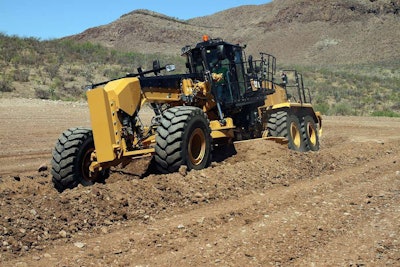 After preparing everyone last month for the likelihood of continued bad news on the financial front with the launch of an extensive cost-cutting plan, Caterpillar has announced another down quarter with double digit decreases to both sales and profit.
Cat sales and revenues fell to $11 billion during the third quarter, a decrease of 19 percent over Q3 2014.
Meanwhile, profit took an even bigger hit, down 64 percent from the same quarter last year to $368 million.
The company continues to attribute the declines to weakened demand for equipment from the mining, oil and gas industries. Cat says substantially lower oil prices have cut sales in much of the world with the most pronounced declines coming in North America, specifically in equipment used for well servicing and drilling.
Cat saw sales decreases across each of its segments during the third quarter, with construction sales down 15 percent, resource industries (mining) down 17 percent and energy and transportation down 25 percent.
However, construction and energy and transportation remain profitable with $378 million and $635 million in profit, respectively. Resource industries lost $68 million during the quarter.
In his statements accompanying the earnings report, Cat chairman and CEO Doug Oberhelman reiterated the company's focus on reining in manufacturing costs, noting that "our year-to-date decremental profit pull through has been better than our target."
Oberhelman also stressed the cyclicality of the the key industries the company serves. "It's nothing new for us or our customers," he said. "We're confident in the long-term success of the industries we're in."
"We can't control the business cycle, but we continue to drive improvements in our business."
A major part of those improvements is getting "leaner" as Oberhelman put it during a recent talk in Chicago. Near the end of September, Cat announced an extensive cost-cutting programthat is expected to save the company $1.5 billion between now and 2018.
The company plans workforce cuts that could number as high as 10,000 with facility closures and consolidations that could impact as many as 20 plants. The first such consolidation the company announced came earlier this month with the closing of its global mining headquarters. The company will move all 250 jobs at that plant to South Milwaukee.
Another major element of the company's improvements is its pivot into an age of analytics. At the Chicago talk last week, Oberhelman framed its partnership with analytics startup Uptake as necessary to the company's survival amid huge potential for disruption.
But the company has also shuffled up its leadership, with a September restructuring that impacted five divisions, including the retirement of the company's mining VP.
The company's sales outlook for the rest of this year and 2016 remain unchanged from the September cost-cutting announcement at $48 billion and $45.6 billion, respectively. Caterpillar has dropped its sales outlook by $1 billion with each earnings report so far this year.