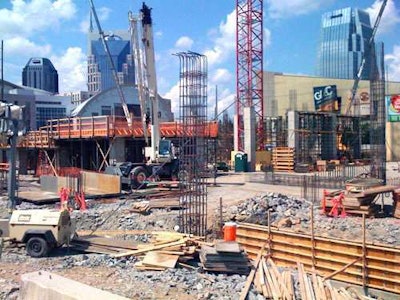 An amendment that will be presented to Nashville voters in August is drawing the ire of some members of the local construction industry there.
According to a report from Nashville Public Radio, the proposed amendment would require construction companies contracted by the city to ensure that 40 percent of all worker hours on major projects go to Davidson County residents. In addition, 10 percent of the hours will be required to go to low-income residents.
Proponents of the amendment say that in addition to providing work for more Nashville-area residents, it will push the construction industry there to provide more training to people in the area.
It's worth noting however, that the amendment provides no outline for such training, nor does it even mention training.
The station reports a coalition of organizations including construction firms an the Nashville Chamber of Commerce oppose the amendment. John Finch, the co-owner of PBG Builders tells NPR the 40-percent requirement is unrealistic.
"The reality is, in the construction industry in Middle Tennessee, the vast majority of construction workers on most every job don't live in Davidson County," he says. "If that 40 percent rule were applied, I don't know where we'd get them."
Tennessee, like the majority of U.S. states, is in dire need of more construction workers. The booming housing market in Nashville is among the hottest in the nation, and Gov. Bill Haslam recently signed the Go Build Tennessee Act into law in order to stem the tide of construction's aging workforce in the state.
Construction officials across the country agree that more training, recruiting and education is needed to address the nation's shortage of skilled workers. However, it's not surprising that contractors are skeptical of Nashville's approach, requiring the hiring of skilled workers from a specific area right in the middle of such a shortage.