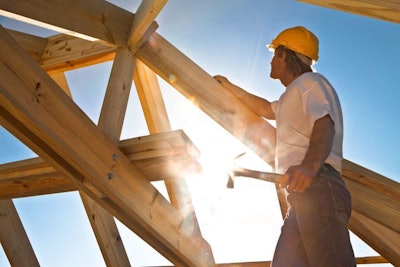 Large ups and downs in the rate of new home construction have become somewhat of a trend halfway through the year as U.S. home starts fell 11.1 percent following the largest monthly gain in 24 years in April.
Home builders began construction on homes at a rate of 1.036 million in May, according to preliminary data from the Commerce Department. Despite the monthly decrease, the rate remains 5.1 percent above the May 2014 rate.
The housing report also revised April's figure upward to a rate of 1.165 million, boosting what was a 20-percent gain to 22 percent.
Single-family home starts fell 5.4 percent in May to a rate of 680,000 but remain 6.8 percent above the year-ago rate. Apartment starts were down 18.5 percent to a rate of 349,000 and are up 2.6 percent year-over-year.
Beyond May and April's respectively sizable dip and surge, February marked the end of a harsh winter for home builders with a 16-percent drop in starts. Despite the dramatic back and forth seen so far this year, home builder confidence rose to its highest point in nine months, according to June's National Association of Home Builders/Wells Fargo builder sentiment index.
Builder confidence is up 4 points to a 59. Any reading above a 50 indicates most home builders believe market conditions are good.
NAHB Chairman Tom Woods said builders have reported "more serious and committed buyers at their jobsites."
"The HMI indices measuring current and future sales expectations are at their highest levels since the last quarter of 2005, indicating a growing optimism among builders that housing will continue to strengthen in the months ahead," NAHB Chief Economist David Crowe said. "At the same time, builders remain sensitive to consumers' ability to buy a new home."
Another positive sign is the rate of permits issued, up 11.8 percent in May to 1.275 million—the highest rate since August 2007.