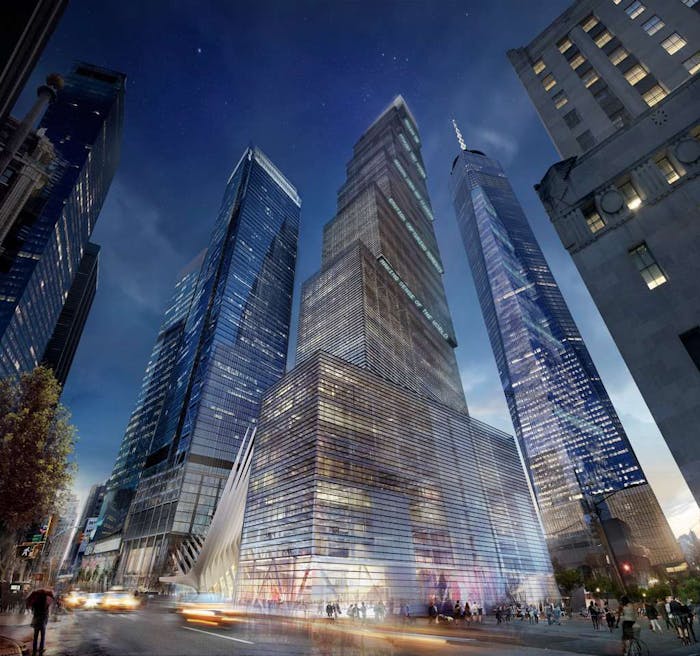 In an interview with Wired that dives deep into the genesis of Two World Trade Center, Bjarke Ingels, the founder of the architecture firm BIG, has unveiled his design for the building.
Once built, the 1,340-foot-tall building will complete New York City's reborn World Trade Center. The new building will stand nearly as tall as One WTC, creating a view of the city skyline from Upper New York Bay very reminiscent of the original World Trade Center's Twin Towers.
However, as you can see in the gallery above, other angles of Two WTC will reveal the building's vast differences in design, most notably its staggered, staircase-like appearance that makes the building look as if its leaning toward One WTC. Wired describes the design as such:
Over the course of six months, a BIG team came up with a concept that divided the skyscraper into seven boxes, each around a dozen stories tall, stacked like children's blocks. "It is like seven different buildings stacked on top of each other," Ingels says.
And if that doesn't sound complicated enough, Ingels had to fit his design to a preexisting foundation, built to accommodate another architect's design that was bumped in favor of Ingels' vision.
"Many structural elements of the skyscraper came predetermined by the intricate underground architecture of the property, which was set in place by Port Authority and Libeskind's master plan. Mechanical equipment, like air vents for Calatrava's station, are positioned on the existing foundations and had to be incorporated into Ingels' building."
Construction on Two WTC is expected to be completed by September 11, 2021, the 20th Anniversary of the 9/11 terrorist attacks. Two of the plaza's buildings are completed with Three WTC expected to open in 2018.
You can read the full story of the sure-to-be-iconic building's design process at Wired.