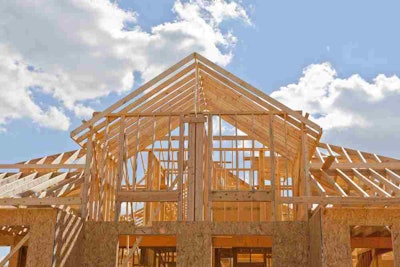 Following up a nice gain in December, housing starts in the U.S. fell 2 percent in January and builder confidence in the market has since dropped due to harsh winter weather conditions.
Builders started homes at a seasonally-adjusted annual rate of 1.065 million homes in January, a 19-percent increase over January 2014, according to preliminary data from the Commerce Department.
Single-family starts were down 6.7 percent to a rate of 678,000 for the month while apartment starts were up 12 percent to a rate of 381,000. The single-family rate is up 18.7 percent over last year at this time while the apartments rate is up 24.5 percent.
After a flat reading in December, builder confidence in the market fell two points to a 55 in January, according to the National Association of Home Builders/Wells Fargo builder sentiment index. Any reading above a 50 indicates most home builders believe market conditions are good. The index has hovered in the upper 50s range for the last three months.
"Overall, builder sentiment remains fairly solid, with this slight downturn largely attributable to the unusually high snow levels across much of the nation," NAHB chairman Tom Woods said in a prepared statement.
"For the past eight months, confidence levels have held in the mid- to upper 50s range, which is consistent with a modest, ongoing recovery," added NAHB chief economist David Crowe. "Solid job growth, affordable home prices and historically low mortgage rates should help unleash growing pent-up demand and keep the housing market moving forward in the year ahead."
The rate of permits, a good barometer of what to expect from housing starts in the future, also decreased in January. Permits fell 0.7 percent to a rate of 1.053 million, but remain up 8.1 percent year-over-year. The rate of apartment permits rose 3.3 percent to 372,000 in December, while single-family authorizations fell 3.1 percent to 654,000.