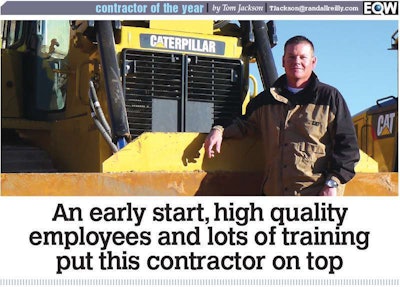 Landon Floyd grew up in construction. His father ran a small excavation and pipeline company in Southern California but moved to Utah when Landon was a boy because it seemed a better place to raise a family.
Although his dad handed the reins over about 10 years ago, Landon grew up working for the company. "I started at the bottom, literally in the trenches and worked my way up," he says. "I got to know it all." To hone the skills he learned alongside his dad, Landon also took courses at an operators' school and also took classes on bidding and estimating.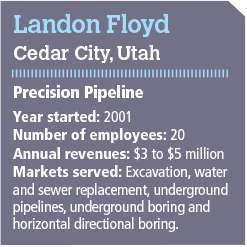 He also learned first hand what made a good employee and has retained many of his father's best workers and more than a few of his high school friends who could prove their worth over time. "A lot of them came up through the ranks with me," Landon says.
"I've got fairly young guys, but they're smart guys," Landon says. "One guy who's 36, he's been with us 15 years. We set a high, high standard. But if you pay well and offer full benefits, you can also ask a lot from them. I don't deal with $12 an hour guys, because you're only as good as your employees."
Enjoying the boom
The West was booming in 2005-2006 and there was a lot of money to be made in the pipeline and underground business in and around Utah. "We paid off a lot of things during the boom years," Landon says. "But the recession was tough. It shows you what you're made of. I relied on my employees. We worked faster but also maintained our quality. We kept it lean and we kept it running and still made a profit."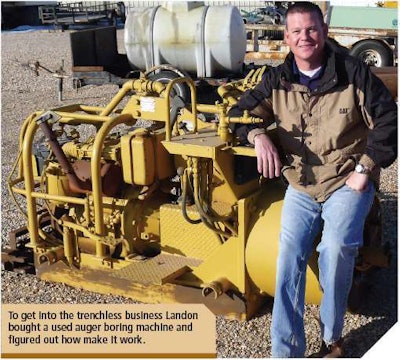 The company downsized some and sold off some equipment. Landon also saw some opportunity in jack and bore and horizontal directional drilling and began pursuing those jobs. "There is a lot of environment work here," Landon says, "like stream crossings and work in ecologically sensitive sites. We could offer the no-dig solution which gave us an advantage." Trenchless now makes up about 10 percent of his business.
In both cases, Landon and his crew started from scratch and figured out how to do the work on their own. They bought a used McLaughlin auger boring machine in Kansas. "We set it up in our yard and figured out how to use it by experimenting," Landon says. "Same with HDD. We bought a used unit and taught ourselves how to use it."
Finding good workers
Like every construction firm, Precision Pipeline struggles to find good new blood. Landon says he likes to see a resume, and that telling interviewees that they do drug testing weeds out some.
He also looks for new hires who are realistic about their abilities. "If a guy brags that he can operate anything, that raises red flags," Landon says. "If he says he's good on this machine and not as familiar with another machine, that tells me he's a little more realistic. Guys who are more humble are usually more honest. If they have their keys with them that's a good sign."
Training, and turtles
Due to the technical requirements of pipeline work and to strengthen the company's safety and environmental programs, Precision Pipeline sends its crews to a lot of different training and certification programs.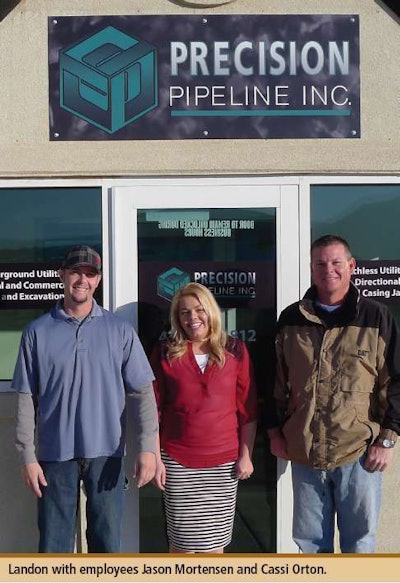 "We give employees the opportunity to learn the business," Landon says. "If a guy wants to get certified, I will pay for it. A lot of our guys are certified on HDPE fused pipe, OSHA 8-hour certified, and MSHA 36-hour certified. We became MSHA certified when we got a job building the water system for a nearby mine site."
A handful of his crew are also certified in the construction of potable water pipelines and all the steps that have to be taken to insure the pipe stays clean and won't contaminate water supplies with bacteria, chemicals or sediment.
"We're even certified in turtles," says Landon. "To work in their habitats, you have to be trained and certified. Out here the desert turtle is an endangered species, so you have to be careful not to leave out any water which would attract them to places where the coyotes might get them."
Equipment philosophy
Precision Pipeline used to run a mixed fleet but Landon is in the process of migrating toward mostly Caterpillar equipment. Landon says he likes the service and support and the resale value.
A few years ago Landon had another brand of excavator he put up for auction, thinking it might bring up to $90,000. "There was a Cat 330 right next to it, same size, but older and in worse condition. I got $32,000 for mine and the Cat brought $115,000," he says. "That changed how I viewed equipment."
Landon likes rental purchase options. "Ninety percent of the payments go to the purchase if I take that option," he says. On financing he sticks to three year terms.
He's also a stickler for maintenance. "We have nice equipment. We don't run old machines. Breakdowns are a killer. We pressure wash the machines at the end of almost every week."
Office work
While some guys who grew up in the field hate to spend time in the office, Landon relishes it. "I really get a kick out of the organizational challenge of running the business side of things. I like the bidding process and the competitive nature of bidding. It has taught me a lot," he says.
One of the things he's learned studying the books is that the secret to estimating is to know what your employees can do. "It's really just employees times the square footage," Landon says. "A lot of times I'll bring our laborers and field people in and sit them down and the couch and ask: How many feet of this can you do in a day? It keeps them involved and makes them a part of the process."
Safety first
The company holds weekly tailgate safety meetings for all the crews. "I outsource it to a safety training company because I want the guys to take it seriously," Landon says. "I don't want them seeing it as just another thing from the office. If it's coming from a different guy they take it more seriously. It's also job specific safety training."
One of the rules he also enforces is no ear buds on the job. "If a guy wants to keep a radio in his cab and keep it low, that's OK. But no earbuds. You have to be able to hear people around you and hear the machine," Landon says.
Quality control
If there is one thing the Precision Pipeline is known for it's quality work.
"I base the business on three fundamentals: quality, quality and quality," Landon says. "Without our quality we wouldn't last a year. If we make mistakes, we'll fix them, even if it's five years later.
On one job an experienced superintendent was gone for a few weeks, and while his replacement set the pipe to the engineering specs, a more experienced hand might have gone just a bit deeper, Landon says. When the pipe developed a leak five years later, Precision Pipeline dug up all 3,000 feet of it and replaced it at no charge. "The client didn't ask for an entire redo, but we did it anyway," Landon says. "I will sacrifice less profit for better quality. It comes around to you. Our guys have a lot of pride in this. Change orders are a swear word around here. We have an honest bid and a quality product."
Satisfied customers
The focus on quality and the experience of Landon and his crews has paid off in the form of satisfied customers.
"Honestly, they are my best subcontractor," says Mark Misner, of Mark 1 Development. "I love those guys. I've never had a back charge, never an extra, nothing. Their bid is it. I don't even bid them out any more. I just hire them on every project I use. Even the small things. They fix things that they didn't break. They bring a machine gun to a knife fight. They make it impossible to go anywhere else."
"These are probably the most common sense, down to earth people I've ever met," says Heath Overson, Go Civil Engineering. As a civil engineer, Overson works with and sometimes for Precision Pipeline. "I know them coming from both directions," he says. "They always give a little more than what's required, a little better than required. I couldn't recommend them highly enough."
Overson also talks about a contract for small community water system Precision Pipeline won the bid for. "We were putting in new water meters, fire hydrants, water mains and home lines. They went out and met every single person in that community, knocked on every single door and talked with every single homeowner and make them aware of what was going on and when they were going to have the water off. We didn't have to worry about a thing. We didn't have a single complaint. Everybody in the community felt like they had received superior service. That's impressive."