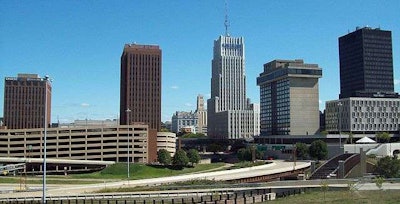 Contractors that bid on projects in the city of Akron, Ohio, may soon have some new competition: the city itself.
Frustrated with the low levels of local workers hired on past and current city projects, Akron Mayor Don Plusquellic recently announced his plan to start a construction company run by the city, according to a report from the Beacon Journal.
The paper reports that the city is having trouble finding contractors that can meet local hiring goals on a massive, multi-stage $1 billion sewer project. "I'm tired of hearing, 'I can't find city residents to do these jobs,' " Plusquellic told the paper. "We're going to prove they can."
Plusquellic contends that since city residents are paying for the bulk of the sewer work through higher tax rates, they should be assured the project will create jobs locally. During the first stages of the project last year, the city asked that contractors hire 30 percent of their employees from Akron with that number increasing to 50 percent by 2018.
And though no municipality in Ohio has started its own company, the move wouldn't exactly be uncharted territory for Akron.
The Beacon Journal reports that after not-for-profit group the Ohio Contractors Association sued the city (it later dropped the suit) over its hiring requirements on the sewer job, "Plusquellic announced that the city would serve as its own contractor on the Rack 15 project," and "has been using a 'construction manager at risk' for its first sewer projects, which involves a construction manager who oversees a project and pledges to deliver it for a certain price. The construction manager then hires subcontractors to do the various tasks."
The new company, which could be called the Akron CCC (City Construction Company), would be led by city engineer Mark Moore and would act as a subcontractor for the 'construction manager at risk.'
Plusquellic said the city hasn't decided if the company would be run for-profit or not-for-profit.