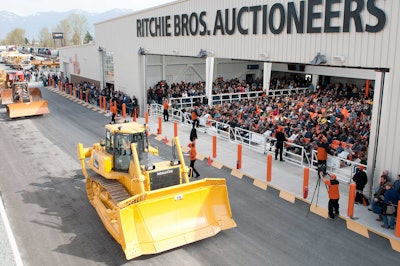 Ritchie Bros. says it saw a record third quarter in gross auction proceeds, posting $886.9 million for the period, up 12 percent compared to last year. The company says it achieved more than $4 billion in gross auction proceeds for the last four quarters, which is a first for the company.
Adjusted net earnings, however, were another story. At $14.5 million for the quarter, they were 9 percent lower than the third quarter of 2013. Net earnings were $9.3 million, 43 percent lower than $16.3 million of net earnings during the same period last year. But net earning for the first nine months of the year grew by 4 percent compared with the first nine months of 2013.
"After completing my 100-day listening tour," says new CEO Ravi Saligram, "it is clear that we have a solid business model with a significant runway ahead of it. I plan to get our organization laser focused on increasing shareholder value by reinvigorating revenue and earnings growth, optimizing our capital allocation and structure, and enhancing our ROIC." Saligram replaced Peter Blake earlier this year.
Ritchie sold approximately $1.2 billion of equipment and other assets to online buyers during the first nine months of 2014, a 16 percent increase compared with 2013. Internet bidders comprised more than 60 percent of the total auction bidder registrations.
Structure, management changes
Saligram said today he will announce a strategic roadmap for the international equipment auction firm on Jan. 12, focusing on "reinvigorating revenue and earnings growth, optimizing capital allocation and structure and improving return on net assets."
Part of this strategic plan will be to establish a more localized and decentralized structure in part to "foster an increased sense of urgency," put in place a data-centric, customer focused leadership team to exploit new channels, and leverage its customer and and equipment data to develop "powerful insights that will sharpen our strategic focus," Ritchie says.
To accomplish this, Ritchie has put in place three regional business officers: Randy Wall, president, Canada; Joroen Rijk, senior vice president, managing director, Europe and Kieran Holm, vice president, managing director, Asia Pacific. The company has initiated an external search for the role of president, United States and Latin America.
Jim Barr is the new group president, emerging business, brand innovation and technology services. Barr comes to Ritchie Bros. from OfficeMax, where he served as executive vice president and chief digital officer. He previously held positions at Sears Holding and Microsoft.
Ritchie also announced the departure of Bob Armstrong, an 18-year veteran with the firm, and most recently chief strategic development officer.