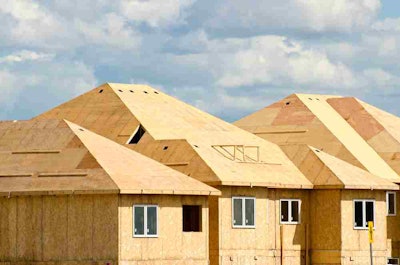 It would appear that despite a couple of rough months, homebuilder confidence in the U.S. housing market was not misplaced.
Following two months of decreases, construction on new homes in the U.S. made up quite a bit of ground in July, rising to the second highest level this year.
Home starts rose 15.7 percent last month to a seasonally adjusted annual rate of 1.093 million, according to data from the Commerce Department.
In its report, the Commerce Department also made a revision to the June rate of housing starts. Last month that rate was estimated at 893,000 but has since been revised upward 6 percent to 945,000.
With July's gains, home starts have now improved 21.7 percent over the last 12 months.
In both June and July after reports of falling housing starts, homebuilding confidence actually increased. In August it has increased again, rising two points to 55, according to the monthly release of the National Association of Home Builders/Wells Fargo builder sentiment index. Any reading above a 50 indicates most homebuilders believe market conditions are good.
"Each of the three components of the HMI registered consecutive gains for the past three months, which is a positive sign that builder confidence appears to be firming following an uneven spring," said NAHB Chief Economist David Crowe in a prepared statement. "Factors contributing to this rise include sustained job growth, historically low mortgage rates and affordable home prices, which are helping to unleash pent-up demand."
Construction on new apartments followed up two months of losses with a huge gain in July, soaring 33 percent to a seasonally adjusted annual rate of 423,000. In the last 12 months, apartment starts have improved 50 percent.
Single-family starts improved as well, jumping 8.3 percent to the fastest pace this year, 656,000. More importantly, July's boost brings home starts back to a year-over-year improvement of 10.1 percent. In June, single-family starts were reported to be down 4.3 percent from their June 2013 mark.
Building permits, a good barometer for what to expect in housing as the year goes on, were up in July as well, rising 8.1 percent to a seasonally adjusted annual rate of 1.052 million. Permits are now up 7.7 percent in the last 12 months.