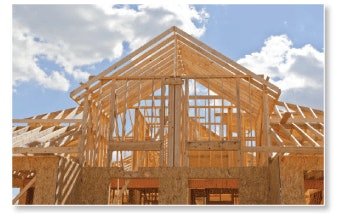 After gains in Spring jumpstarted what many hoped would be a high-activity construction season following a harsh winter, construction on new homes in the U.S. was down for the second consecutive month in June.
Home starts fell 9.3 percent last month to a seasonally adjusted annual rate of 893,000—the lowest pace in nine months. The Commerce Department report also revised the May rate of home starts from 1.001 million down to 985,000.
Despite the drop, June's rate of home starts is still 7.5 percent above June 2013's mark of 831,000.
After strong gains earlier in the year, apartment construction starts fell for a second consecutive month, down 11.3 percent to a rate of 305,000. June's rate remains 39.3 percent better than the June 2013 rate of 219,000.
Single-family home construction starts didn't fare much better, falling 9 percent to a rate of 575,000. Single-family starts are down 4.3 percent year-over-year from June 2013's rate of 601,000.
And there's little confidence to be gleaned from building permits which are typically seen as a good barometer for what to expect as the year progresses. In June, homes authorized by building permits were down 4.2 percent to a rate of 963,000. The rate is 2.7 percent higher than it was in June 2013.
The good news on the permit side is that single-family authorizations were up 2.6 percent in June to an annual rate of 631,000. Meanwhile, permits were issued to apartments at a rate of 301,000, down 17.1 percent.
And just as was the case in June, despite housing starts falling the previous month, homebuilder confidence actually increased in July, rising four points from 49 to 53, according to the monthly release of the National Association of Home Builders/Wells Fargo builder sentiment index. Any reading above a 50 indicates most homebuilders believe market conditions are good.
"This is the first time that builder confidence has been above 50 since January and an important sign that it is strengthening as pent-up demand brings more buyers into the marketplace," NAHB Chairman Kevin Kelly said in a prepared statement.