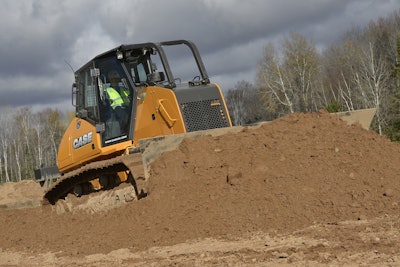 Case Construction Equipment has announced that it plans to move production of its M Series crawler dozers to Burlington, Iowa, following an expansion of a plant there.
The dozers are currently being made at a plant in Calhoun, Georgia. In late June, Case's parent company CNH Industrial announced that the Calhoun plant would be closing in the third quarter of 2015. Up until now it was unclear where production of the M Series dozer would continue.
The Calhoun plant closure came as part of streamlining measures the company said are "necessary as the company adjusts its construction operations based on current volumes and market demand."
Preparations for the $24 million Burlington plant expansion will begin later this year with production on the new line expected to begin in the second half of 2015. The expansion includes a new dedicated paint line, welding and computer numerical control (CNC) machining equipment and a dedicated assembly line.
Case says the expansion will create 50 full-time jobs.
Case North America vice president Jim Hasler called the Burlington plant "familiar territory" for the company as it has been manufacturing CNH Industrial brands since 1937. Six hundred employees work at the Burlington plant, where Case IH and New Holland agricultural equipment are also made.
"Earlier models were produced in Burlington prior to the acquisition of the Calhoun, Ga. plant. Our new M Series dozers are experiencing high demand and we have plans in place to ensure availability as we transition production," Hasler said.