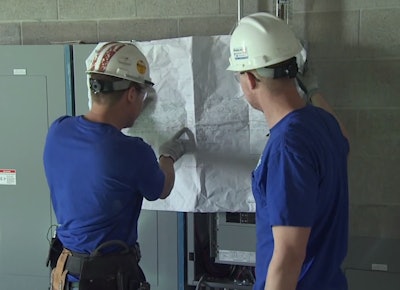 Like their peers across the country, Wisconsin contractors are preparing for a sizable increase in work in 2014. According to Associated General Contractors of America chief economist Ken Simonson, construction spending in the U.S. is expected to rise 10 percent by the end of this year.
And while more work is definitely good news, those Wisconsin-based contractors are voicing their concerns over finding workers experienced enough to meet the new demand and provide quality work, according to a report from The Daily Reporter.
In Milwaukee alone, three downtown building projects will put a strain on the pool of available skilled workers in the state. The Northwestern Mutual Life Insurance tower, Irgens Partners LLC and The Coutre combine for $730 million in work and are expected to generate 7,300 jobs.
Meanwhile, it appears younger workers looking to break into the industry might have a hard time convincing contractors in Wisconsin to bring them on.
Randy Decker, the owner of general contractor Decker Lumber and Supply Inc. of Athens, Wisconsin, told the publication that he doesn't plan on expanding his eight-man crew due to inexperienced applicants and overall "slim prospects."
"I try to hire some part-time in the summertime," Decker said. "Forget it. Parents ain't teaching their kids anything, except video games."
Bob Ford, the president Ford Construction Co. Inc. in Waukesha, is accepting applications for hires he plans to make this spring. The economic downturn forced him to downsize from 12 workers to five. Ford echoed Decker's sentiments, saying he has been unimpressed with the applicants he's seen thus far.
Ford said he wants to avoid hiring inexperienced workers or those new to construction entirely to avoid the time and attention training them will require. Ford added that he also wants to avoid the risk of these workers doing bad work that would have to be redone. Plus, he said these new workers can be dangerous because they "don't know one sound from another," referring to the sounds on a construction site that could prevent safety hazards.
He's also not interested in drawing from apprentices due to the wait for them to become journeymen.
There is at least one Wisconsin contractor which has turned to green workers.
Electrical contractor Faith Technologies Inc. in Menahsa uses a training program from Associated Builders and Contractors to equip inexperienced workers. But they're also using a recruiting video and scholarships to recruit from high schools, said Faith vice president of human resources, Stephanie Guin. You can see the recruitment video below.
[youtube 2N4xnni7Ir4 nolink]