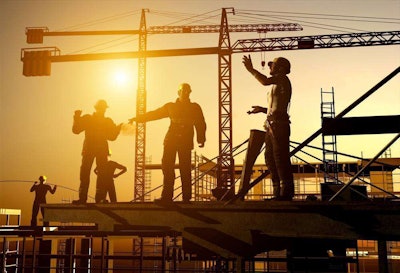 More projects to bid, "tame" materials prices and an increased concern over the availability of labor and skilled workers are what contractors can expect in 2014, according to a recent blog post by one of the construction industry's leading economists.
Associated General Contractors of America Chief Economist Ken Simonson writes that in 2014 contractors will likely see more projects to bid on than they have in the last five years.
Simonson notes an "upbeat" spending report to kick off the year with the delayed November construction spending up 1 percent to a five-year high. And for 2013's first 11 months, Simonson writes that spending was up 5 percent from the same months in 2012.
In total, Simonson expects total construction spending to rise 10 percent in 2014 despite a small decline in public construction.
Simonson forecasts private nonresidential construction to see an increase between 5 and 10 percent in 2014, while private residential construction should grow another 10 percent or more thanks to double-digit growth in apartment construction. He expects single-family home construction to stall in late 2014.
He expects power and manufacturing construction—the two largest private nonresidential construction segments—to increase their spending by double digits in 2014 as well as lodging and warehouse construction. And while Simonson expects office and retail construction to "make modest gains," he predicts "private hospital and educational construction will remain in the doldrums."
As far as materials prices go, Simonson says they "should remain tame," over the next year with a no more than 3-percent increase over the December 2012 level and an ample supply of all products.
"Diesel prices may actually fall slightly. Steel prices have begun to climb, after slumping 8 percent in 2012 and finishing 2013 roughly unchanged," Simonson writes. "However, there should not be large spikes like those in 2004-2008. Similarly, copper and concrete prices may rise modestly, and gypsum prices are likely to start the year higher."
The main concern he has, unsurprisingly, is labor. Specifically labor costs and the availability of workers. He notes that at 8.6 percent, the November 2013 unemployment rate is a far cry from the 18.8 percent from November 2012. However, while 890,000 construction employees left the unemployment line, the construction industry only added a total of 327,000 employees in that time span.
That means most of the experienced workers left the industry, Simonson says. And finding workers—especially the experienced ones—will continue to be a challenge in the coming year.
"To get them back, contractors will likely have to spend more on wages, benefits and bonuses. Firms that can't find the additional workers they need will increase their payment of overtime wages," he writes. "As a result, employers' costs for employee compensation, BLS's overall measure of wages, salaries, benefits and required payments such as unemployment and workers' compensation, will probably go up 3 to 4 percent in 2014, compared with a 2.1 percent rise from the third quarter of 2012 to the third quarter of 2013."