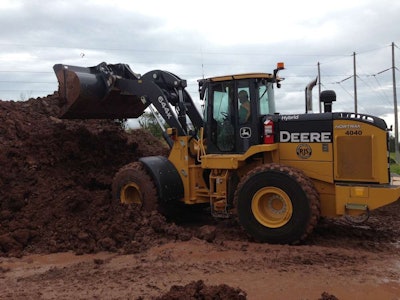 In 2009, RJS Construction Group, based out of Superior, Wisconsin, was the second construction company to buy John Deere's 764 HSD high-speed dozer. Hoping to be an even earlier adopter on Deere's latest technology, the company recently made sure it was first out of the gate to buy Deere's new 644K Hybrid loader.
Both moves are indicative of chairman Todd Johnson's keen eye toward the future, says Pete Weidman, president and chief operating officer.
"He's always interested in how the next piece of equipment can give him a competitive advantage," Weidman says. When Johnson saw the loader hybrid prototype at ConExpo/Con-Agg 2011—and its promised 25 percent fuel savings—he signed on immediately for the first two machines.
"As we bid projects, the fuel component becomes a driving piece of winning and losing," Weidman comments. While there currently is little client pressure in the company's Midwestern operations for environmental machines, he says using a hybrid was a fit for the firm's vision of forward-thinking construction.
Delivered in April, the two 644K Hybrids went to different tasks, one doing road soil correction work for RJS's earthmoving division and the other repositioning material around the company's headquarters.
Especially appealing, Weidman says, is the hybrid's constant low rpm engine setting—ranging from 900 to 1,800 rpms. "Ultimately that will reduce our maintenance costs, since we don't expect significant engine issues as hours accumulate," he says.
Weidman reports a slight operator learning curve. "Operators are used to putting down the gas pedal and feeling the machine rev up and then start to move. With the hybrid, there's an instantaneous reaction, and they had to get used to how the machine reacted, and the fact they no longer heard the motor rev," he says.
"Our guys are very attuned to these machines, and if they don't hear the engine rev, they think something's wrong, so it was a bit of adjustment. But they assimilated to it quickly."
One loader currently has around 250 hours on it, while the other loader has 50 hours. "We're finding what was claimed—around 25 percent fuel savings, even when we're going through heavy, wet soils," Weidman says.
Weidman reports RJS didn't have "any hesitations" on the hybrid's cost premium, around $53,000 over a conventional machine. "We believe that over time we will recover those costs, and rather quickly, especially as we look at future fuel costs," he says. "It will give us the competitive advantage we're looking for."
The company's relationship with John Deere runs deep; all of its 80-piece heavy equipment fleet is Deere, Weidman says. "There are definitely more hybrids in our future."