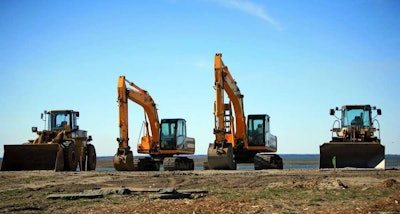 Citing growth in Asia, primarily in China, a new forecast expects global demand for construction equipment to rise at a click of 6 percent per year, reaching $189 billion by 2017.
The report, put together by market research firm the Freedonia Group, says the Chinese market "will climb at a double-digit annual rate" while the Western European market will see a rebound as contractors replace their older equipment.
In North America, particularly the United States, Freedonia predicts a lull in replacement sales for the next few years saying that many contractors here have already replaced older equipment "in expectation of faster economic growth and increased construction spending."
Freedonia predicts that thanks to increased construction spending and mining investments, excavators and loaders will record the fastest sales growth of all machine types through 2017. The group notes dozers and off-highway trucks will benefit from these economic improvements as well.
In Central and South America, the group sees things slowing down a bit in the next few years. Central and South America and Eastern Europe "will experience moderate distortions in construction equipment demand going forward," the report predicts. This is due to the fact that Brazil and Russia will host a portion of both the Olympics and the FIFA World Cup.
Finally, in the Africa/Mideast region, Freedonia expects things to advance at a faster pace throgh 2017 following oversupply issues rom 2007-2012 in the region's wealthier nations.