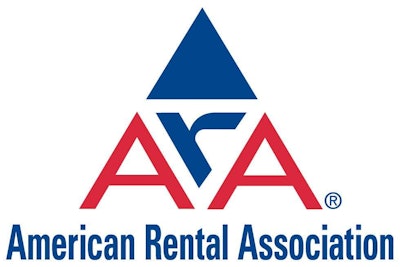 The latest forecast from the American Rental Association shows the U.S. equipment rental industry outpacing gross domestic product by four times with revenues expected to reach $33.5 billion by the end of the year.
Should revenues reach that mark, it would mean a 7-percent increase over 2012, according to ARA's Rental Market Monitor.
According to the forecast, the construction market and consumer spending are the most important drivers of growth in the equipment rental market this year. The ARA expects construction growth of 2.6 percent this year coupled with a 2-percent growth in consumer spending. The ARA expects the construction and industrial equipment segment to grow 8.1 percent in 2013.
"The U.S. economy slowed more than expected in the first half of the year, but equipment rental demand has remained strong," said Scott Hazelton, a senior partner with IHS Global insight, which compiles data and analyses for the ARA Rental Market Monitor. "We have lowered our growth expectations for 2013 modestly to reflect this, but rental growth will still handily outperform the overall economy."
The ARA expects 2014 to bring growth of 9.2-percent to the equipment rental revenue followed by 12.9 percent growth in 2015. By the end of 2017, ARA forecasts equipment rental revenue in the U.S. to exceed $46.5 billion.