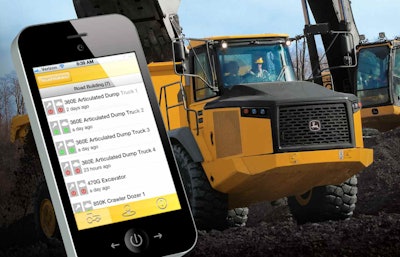 A new app from John Deere Construction brings the company's JDLink machine monitoring system to the iPhone, iPad and Android devices.
The free app allows contractors to view alerts and access the JDLink system to keep tabs on the location of their John Deere machines. Other features include multiple machine mapping and directions to machines.
"We know our customers are constantly on the go and have limited time to track entire fleets, even when they can manage from their seats via the JDLink website," said Liz Quinn product marketing manager of John Deere WorkSight. "Not only does the application utilize important features of JDLink, it also alerts customers of an issue in real time, even when they're away from the office."
John Deere's full JDLink website, which this new app taps into, offers the following monitoring features:
Machine health monitoring
Tips on extending life through preventative maintenance
Simplified maintenance scheduling and documentation
Alerts of potential downtime
Rental fleet tracking including hours of use
Documentation of machine and operator productivity
Recovering stolen machines through GPS tracking
JDLink is one of five technologies incorporated within John Deere WorkSight. The WorkSight suite of technology solutions assists in business optimization and also incorporates Fleet Care proactive machine health program, Service ADVISOR™ Remote dealer diagnostics, grade control, and payload weighing.
Click here to download for iPhone/iPad