Thomislav Zigo of Clayco Inc. spent an hour during the first day of the Associated General Contractors of America IT Forum Conference discussing how to get the most out of Business Information Modeling applications for tablets and smartphones on the jobsite.
"There's so much stuff available out there you really need to be careful what you pick," Zigo said.
He took some time to discuss exactly what BIM is for the uninitiated and defined it this way: "The process of information management (that enables a business to get the) right information to the right person at the right time."
He said "And that definition really screams to put this (information) in somebody's hand 24/7," via a mobile device. "With the vast amount of useful information at users' disposal, now the industry is focusing on how to access and utilize the information using mobile technology during construction, material and progress tracking, commissioning, handover and operations maintenance."
Zigo recommended that before implementing any mobile apps, first define your task process by identifying the application and the pathways the participants will take to accomplish it. He recommended making a flowchart of the process to identify areas where BIM can decrease wasted time and effort. 
His talk sought to define the mobile workflow on the jobsite by identifying BIM applications currently being used in the field by Clayco and showing conference attendees how to best leverage mobile devices themselves.
"I want you to understand the range of currenlty available mobile solutions for design and construciton and I want to describe the capabilities of mobile apps being used at Clayco and how to use them to their full potential," Zigo said.
He started out by establishing the basic needs and uses that surround the use of mobile apps on smartphones and tablets:
Incerased collaboration
Process enhancement
Accuracy of information in real time
Elimination of redundant processes
Ease of use
Focus on content viewing and collaboration
Field data capture
Virtual manuals
Limited content creation and sharing
Project management
He then laid out what Clayco expected of these apps when put into use:
Increased speed accuracy and quantity of info captured
Realtime visual schedule verification and look ahead
Realtime job progress reporting
Increased field awareness and involvement in the process
Increased safety
Reduction in rework
Eliminated information loss
Eliminated information redundancy
Reduced complexity for filing and tracking documents
Reduction in paper use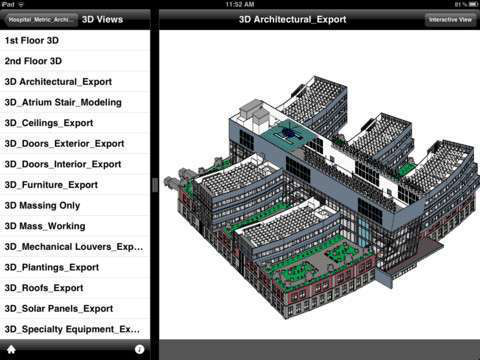 And using the following apps, Zigo said Clayco has been able to check each of these expectations off the list.
Each of the below apps allow you to view both documents and models in the field. Zigo said the capability to view models is these apps' most useful feature as they provide a great visual aid, element data available at your fingertips, the ability to control presented content, coordination reports are a bit more legible.)
Zigo said there are still caveats to all of these apps.
"I'm still not aware of a really, really good app that allows you to create content," Zigo said. The current offering of BIM apps for mobile devices only allow collaborators to view models. Creation of the models has not yet been implemented on smartphones and tablets.
Zigo also noted that each app has its own separate interface for cloud storage. "Somebody needs to get out there be smart about it and" combine the many clouds, he said. "We need cross-pollination of data."
And because we're early on in the lifecycle of BIM mobile apps, Zigo pointed out that he sees occasional crashing in these apps and noted that the user interfaces could be tweaked to improve navigation.
And of course, because these apps depend upon the cloud, access to the content within is still spotty because you depend on the jobsite's bandwidth. If it's not great, that can severely affect loading times of models.