Continuing its online-only stance since the first of the pandemic, Ritchie Bros. now says its mark-the-calendar February auction will also be online only.
"In 2021 we will conduct our first ever 100% online Orlando mega auction, with brand new customer services," says Ritchie in announcing the Feb. 15-20 auction.
This in contrast to Ritchie's February cross-town auction rival, Yoder & Frey, which announced earlier this month it would have an in-person auction at its annual event in Kissimmee, Florida.
"Covid-19 cases are on the rise in much of the United States and over the last 10 months we have proven our ability to deliver the same great results with 100% online auctions," says Kari Taylor, president, North American sales, Ritchie Bros. "By going all online we can provide sellers certainty in uncertain times."
Ritchie says it has seen website traffic increase by to 27-plus million visits this year, while bidder registrations are up by more than 817,000. The company calls buyers "extremely active," noting that they've watch listed more than 680,000 items and made more than 300,000 PriorityBids. In addition, Ritchie Bros. Financial Services has currently approved more than $50 billion in financing for online buyers.
"Our Orlando mega auction will again feature a 'Virtual Selling Option', as well as new enhancements that will further benefit both buyers and sellers, including video inspections on several asset categories," says Taylor.
In addition, the company's PriorityBid — where buyers can make a proxy bid online for items that are then put first in line to win an item — will be open earlier than the usual week before the sale.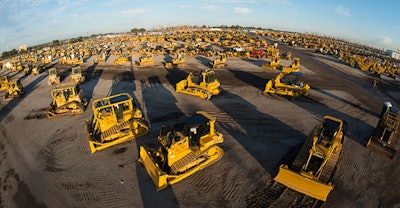 Not everything will be virtual. The Orlando 200-acre auction site will be open for in-person inspections and onsite equipment needs.
This year, Ritchie's February Orlando auction featured more than 13,000 equipment items and attracted more than 18,000 bidders from 85 countries.