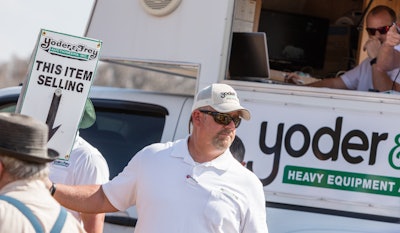 Yoder & Frey will hold its annual February Kissimmee, Florida, auction as it always has: in-person.
As before, the Feb. 10-13 sale will have three rings and a live ramp, and buyers will be able to inspect any equipment catalogued pre-sale. Yoder & Frey says it will follow Covid-19 protocols "in place at that time." The sale represents the 47th time the company has held its Kissimmee auction.
Yoder & Frey says 2020 has been a successful year, "with exceptional consignments of first class heavy construction inventory selling well at all sales throughout 2020." The company was purchased by Euro Auctions Group in 2016.
"Throughout 2020, Yoder & Frey has continued to deliver a full program of auctions, including many high-profile 'off site' sales for specialist coal and general mining companies,  general contracting and rental roll-out auctions," says Peter Clarke, Yoder & Frey founder and CEO. "In addition, we are seeing an increase in the quantity and diversity of equipment being consigned to our auctions, attracting new consignors, increasing bidder turnout, resulting in our auctions achieving record numbers. Our customers like our culture, our can-do attitude, the fact we care about our consignors and buyers, and that we do go the extra mile at all sales."