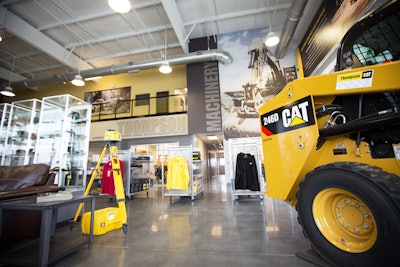 Commenting on its growth in the past 36 months, Cat dealer Thompson Machinery says in the next 12 months it plans to open new stores in Thompson's Station and Murfreesboro, Tennessee; and in Oxford, Mississippi.
"Within the last 36 months, we've opened new Cat Rental Store locations in Nashville, Memphis, Clarksville, and Jackson, Tennessee, as well as Columbus and Greenwood, Mississippi," states Mike Rattan, rental general manager at Thompson Machinery in a company statement. The company, which is celebrating its 75th anniversary this year, says it invests $4 million to $5 million in each new branch it builds, an estimate that doesn't include land, equipment or parts inventory, which can be another $13 million to $15 million per branch. The company is headquartered in LaVergne, Tennessee (Nashville).
Thompson says new branch locations are determined by forecasted housing and commercial growth, ease of logistics and the infrastructure investment from local communities.
Compared with 2010, when the dealer employed 433 people throughout Tennessee and Mississippi, today Thompson employs almost 650 people.
"The net employment growth does not take into consideration a large number of retirees replaced during the past ten years," explains Rob McCleary, customer experience champion at Thompson.
"We've aggressively grown market share over the last few years," notes Daniel Clark, director of strategy. "We are positioning local investment growth to withstand the next economic downturn with expanded products and services offered by Caterpillar, especially in the areas of jobsite technology."
Thompson Machinery says it has been ranked by its customers – for the third year – as providing the best overall customer satisfaction among all North American Caterpillar dealers who participated in a survey conducted by research firm The Daniel Group. Thompson says it also ranked as the number one dealer in the parts transactions, field service, and shop service categories.