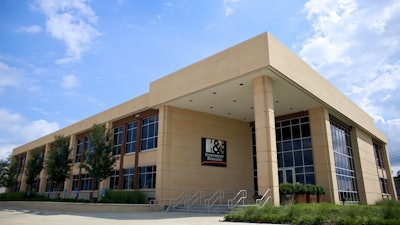 A strong nonresidential construction market helped propel H&E Equipment Services to another solid quarter, with revenues increasing 20.4 percent in the first three months of 2019 over the same period last year.
The company also expects more growth throughout the year. That growth includes maintaining a steady acquisition strategy.
"There's a lot of small-, mid-size players out there, and I think we have ample opportunity to achieve that expectation of two or three acquisitions a year," said John Engquist, executive chairman and director, during a conference call with analysts April 25.
In all, H&E has 96 branches in 22 states, covering most of the southern half of the country and the West Coast. About one-third of its locations have been added since 2013, either by acquisition or the company opening new stores. Six additional locations came from H&E's most recent acquisition of We-Rent-It in January.
"All of the acquisitions we have done to date have performed better than our anticipation," said H&E CEO Brad Barber.
He forecast solid growth for the remainder of the year, including for nonresidential construction, which accounted for 60 percent of the company's first-quarter revenue.
"The end-user market continues to be solid and broad-based," Baker said. "Spending on nonresidential construction projects is forecast to grow year over year."
He added that the energy market is "steady and healthy," and "state DOTs are increasing spending for transportation and infrastructure-related projects."
Customers can expect rental rate increases. Rates are up 2.3 percent higher since 1Q 2018. Baker said the company expects "consistent positive rate increases" at a low single-digit percentage point for 2019.
The company has "one of the youngest rental fleets in the industry," he added. The average age of the company's equipment is 35 months versus the industry average of 46 months, he said.
The company also paid its 19th consecutive quarterly cash dividend of $.275 per share on March 8, he noted.
Some other highlights from H&E's first-quarter financial report compared to 1Q 2018:
Rental revenues increased 22.9 percent.
Sales of new equipment increased 27.1 percent, led by earthmoving equipment and aerial lifts.
Sales of used equipment increased 19.2 percent.
Rental fleet size increased by 23.4 percent.