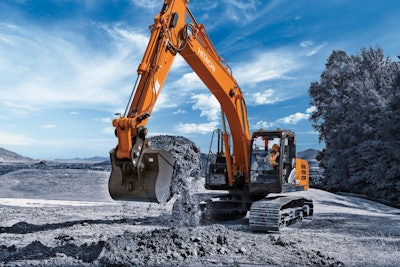 Hitachi Construction Machinery posted a 7.8-percent increase in revenues in its fiscal year ending March 31, compared with its previous fiscal year. The company had 1,033,703 million yen in revenues this fiscal year, compared to 959,153 million yen the previous year.
In issuing its results, Hitachi also warned that it expects its 2019 fiscal year results (through March 31, 2020) to be down 8.1 percent, to 950,000 million yen, citing a "slight decrease in global hydraulic excavator demand" compared to the previous fiscal year.
For the 2019 fiscal year, net sales saw a 14.4 percent increase, rising to 545,949 million yen from 477,221 million yen from the previous fiscal year.
ACME rental investment, electric excavators
In reporting its results, Hitachi noted its 33.3-percent equity buy of ACME Lift, an Arizona-based equipment rental company, as part of its emphasis to "expand the source of revenue besides new machine sales."
When the ACME purchase was announced in September, Hitachi said it would "support ACME in finance and through the utilization of its existing North American distribution channels." Hitachi would also "expand ACME's earthmoving equipment re-rental business and provide overall business support."
As part of the ACME buy, Hitachi said it intends to expand its rental business globally and hopes to implement the experience it gains in the North American market in that expansion.
In its 2019 fiscal results, Hitachi also said that it had established a new German distribution company, EAC, to develop electric-powered 2-ton to 8-ton concept electric-powered compact excavators.
Hitachi noted that excavator demand increased globally year-over-year, with the exception of Japan, the Middle East and Africa. For North America, Hitachi reported a 23.7 percent increase in revenues, compared with the previous fiscal year.
Hitachi Construction Machinery is the parent company of Hitachi Construction Machinery Holding USA in Kernersville, North Carolina; and Hitachi Construction Machinery Loaders America, based in Newnan, Georgia. It also has a 50-percent interest in Deere-Hitachi Construction Machinery, also based in Kernersville. Hitachi and Deere celebrated the 30th year of its joint excavator manufacturing venture in 2018.