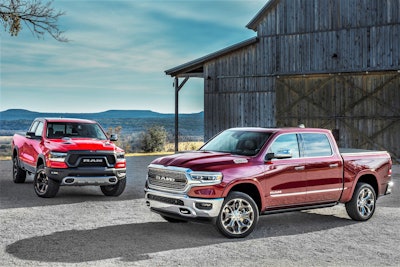 Curb-and-gutter machine manufacturers focus on keeping it simple
Contractors are looking for more simplicity in their curb-and-gutter machines. So, manufacturers have made that a top goal in their design principles.
"A big part of making the machine more productive is making it easy to run," says Stephen Bullock, vice president of sales and marketing for Power Curbers. "The simpler you can make it, the better."
Simplicity also helps contractors bring new operators onboard.
To read more, click here.
---
Ford unveils revived 2019 Ranger: Bigger, badder and a segment-first 10-speed transmission
Ford Ranger is back and more capable than ever before thanks in part to some help from its highly successful global counterpart and its big brother, F-150.
While there was no talk of a Ranger Raptor at the recent unveiling in Dearborn, Michigan, the 2019 Ranger will come in an entry-level XL, mid-level XLT and high-level Lariat trim series with available chrome and sport appearance and FX off-road packages, and in SuperCab or SuperCrew cab configurations.
But perhaps the most interesting news is that Ford's latest midsize truck will come standard with a second-generation 2.3-liter EcoBoost engine paired up with Ford's segment-exclusive 10-speed transmission.
To read more, click here.
---
Chevy sets all-new Silverado 4500, 5500 unveiling for March at the Work Truck Show
Chevrolet says it will reveal the all-new Silverado Class 4500 and 5500 chassis cab trucks at The Work Truck Show 2018, which takes place March 6-9 in Indianapolis.
The Work Truck Show is North America's largest work truck event and this year it is expected to draw more than 11,000 public and private truck fleet operators, dealers and equipment distributors to the Indiana Convention Center.
The trucks, announced in October 2015 and set to launch in late 2018, represent a long-awaited return to the medium duty and vocational truck markets for Chevrolet. The Silverados are GM's versions of the Class 4 and 5 vehicles. Navistar-International-branded versions will also be available. Though there will be some cosmetic differences between the two versions, the trucks will be the same at their core.
To read more, click here.
---
Manitou unveils Gehl/Mustang V420/4200V as "world's largest, most powerful" skid steers
Designed for heavy construction, road building and agriculture, Manitou has unveiled a pair of skid steers under its Gehl and Mustang brands that it is calling the largest and most powerful models on the market today.
The Gehl V420 and Mustang 4200V weigh in at 11,665 pounds with a height to hinge pin of 144 inches. Each have a rated operating capacity of 4,200 pounds.
Both machines are powered by a 120-horsepower Tier 4 Deutz engine providing 354 lb.-ft. of torque. Manitou says the new machines have 21.7 more horsepower and 200 pounds more operating capacity over the previous models in this size range.
To read more, click here.
---
Ram unveils redesigned 2019 1500 trucks with new look, less weight, more tech
It's only January and it looks like Ram has already tackled some new year's resolutions.
The 2019 Ram 1500 has checked off an impressive list including cutting weight, getting a stronger frame, adding more driver-friendly tech and introducing eTorque, a mild hybrid option that will deliver more power while using less gas.
First up is weight loss. The Ram 1500 has dropped 225 pounds, 100 pounds of which was cut from the frame through the use of advanced materials and a patent-pending design change. Composed of 98 percent high-strength steel, Ram's new backbone offers increased stiffness and durability for 12,700 pounds of towing capability and 2,300 pounds of payload.
Ram reports that despite the weight loss, the new frame on its 2019 1500 is its strongest ever. It includes the same impact countermeasures across all configurations, and is made from 98 percent high-strength steel. Exclusive front splayed frame rail technology (patent pending) creates a highly efficient energy absorbing structure for all impact modes, including front-offset with frame integration forward of front tire. Also, frame-mounted high-strength steel tire blockers are placed behind the front tires to force wheels outward in the event of impact. Additionally, side rails are taller and fully boxed.
To read more, click here.