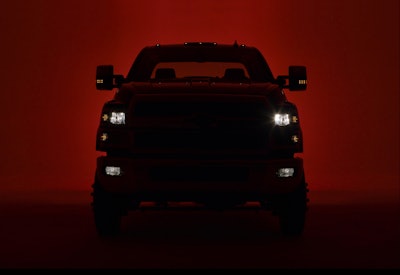 Chevrolet says it will reveal the all-new Silverado Class 4500 and 5500 chassis cab trucks at The Work Truck Show 2018, which takes place March 6-9 in Indianapolis.
The Work Truck Show is North America's largest work truck event and this year it is expected to draw more than 11,000 public and private truck fleet operators, dealers and equipment distributors to the Indiana Convention Center.
The trucks, announced in October 2015 and set to launch in late 2018, represent a long-awaited return to the medium duty and vocational truck markets for Chevrolet. The Silverados are GM's versions of the Class 4 and 5 vehicles. Navistar-International-branded versions will also be available. Though there will be some cosmetic differences between the two versions, the trucks will be the same at their core.
As we learned back in March, GM has handled the trucks' powertrain while Navistar has developed their design and will handle manufacturing at its Springfield, Ohio, plant. A Duramax engine and Allison transmission will lie at the core of these trucks.
The trucks will be available in regular and crew cab models, with 2WD and 4WD capability and a wide range of GVWRs and wheelbases. Chevrolet will also offer these trucks with an expanding suite of industry-leading driver connectivity and fleet management solutions, including OnStar, 4G LTE Wi-Fi, and a number of telematics offerings.
"The Silverado 4500HD/5500HD trucks are the flagship of our full-line commercial truck portfolio and we've designed them to be among the best in the industry in maneuverability, serviceability, visibility, quietness and comfort, diesel fuel economy and more," says Ed Peper, U.S. vice president, General Motors Fleet. "At GM Fleet, we are determined to deliver on our three pillars: great products, innovative business solutions and an exceptional customer experience, and I'm confident that with these new trucks, we'll exceed the expectations of not only our fleet customers, but the drivers and upfitters as well."
Additional technical specifications for the new Silverado 4500HD/5500HD will be released at the reveal in March. The trucks are expected to go into production in late 2018.