Designed for heavy construction, road building and agriculture, Manitou has unveiled a pair of skid steers under its Gehl and Mustang brands that it is calling the largest and most powerful models on the market today.
The Gehl V420 and Mustang 4200V weigh in at 11,665 pounds with a height to hinge pin of 144 inches. Each have a rated operating capacity of 4,200 pounds.
Both machines are powered by a 120-horsepower Tier 4 Deutz engine providing 354 lb.-ft. of torque. Manitou says the new machines have 21.7 more horsepower and 200 pounds more operating capacity over the previous models in this size range.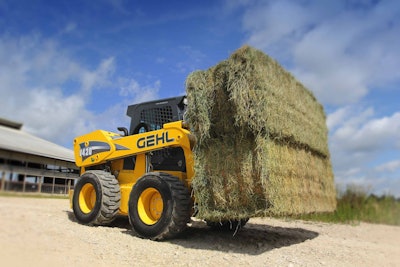 "The standard machine has been developed for the operator looking to run high performance attachments in a spacious, comfortable operator station. This is a high-end machine for tasks that need high performance," said Manitou's Nathan Ryan, Global Product Line Manager, Skid Steer Loaders.
Manitou says the V420 and 4200V are designed to be "true tool carriers," coming standard with everything needed to operate attachments such as mulching heads, cold planers, rock wheels and more. High flow auxiliary hydraulics are standard and deliver hydraulic flows up to 41 gpm. The five auxiliary hydraulic lines are easily accessible with flat-face couplers at the front of the machine near the operator's station.
The cab on these machines comes standard with heat and AC, a suspension seat and pilot joystick controls. A radio with Bluetooth connectivity will be available in February.
A rear-view camera, impact resistant door, 3-inch seatbelt and shoulder strap, brake release, and rotating beacon are among available options.