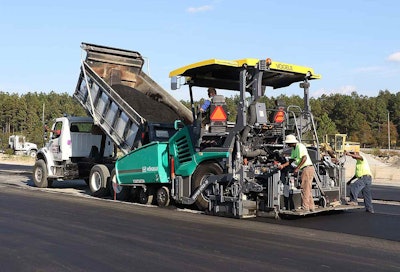 Exactly six months after announcing the transformative deal, Deere & Company says it has completed its acquisition of the Wirtgen Group.
Plans for the $5.2 billion purchase were announced June 1 and with it John Deere becomes the first manufacturer to have crushing and screening, as well as mobile equipment, all under one company. Deere funded the purchase through a combination of cash and debt.
Before the deal, Deere did not manufacture any road building equipment such as pavers and compaction equipment. Deere says it considers Wirtgen "the leading manufacturer worldwide of road construction equipment."
"The Wirtgen Group will enhance the size, scale and stature of our construction equipment business and will help Deere continue its global growth," Sam Allen, Deere & Company
chairman and chief executive officer said in a statement. He added that the acquisition aids in "Deere's long-term strategy to expand in both agriculture and construction," according to a Deere press release.
As we reported back in June, Deere's acquisition of Wirtgen was more than a decade in the making.
"While head of the [Deere] C&F (Construction & Forestry) division in the mid-2000s, I met with the Wirtgen family to discuss the possibility of pursuing strategic opportunities such as this one, and we stayed in close touch ever since," Allen said in June. "Then, when Stefan and Jürgen Wirtgen decided to sell their business and move on to other opportunities, they reached out to Deere and we were honored they did. We're glad from a timing standpoint, but this is just something that we strategically have had in mind for quite some time, and in the absence of a financial crisis, we would have gone ahead and pulled this trigger, because of how attractive it is."
Deere has said it plans to maintain each of the Wirtgen Group's existing brands along with the group's management, manufacturing footprint, employees and distribution network. Deere says "the combined business is expected to benefit from sharing best practices in distribution, customer support, manufacturing and technology as well as in scale and efficiency of operations."
Wirtgen Group reported sales of €2.6 billion (roughly $2.9 billion) in in fiscal year 2016 (ended December 31, 2016) and has forecast sales of roughly €3 billion (about $3.4 billion) for FY2017.
Deere has said it expects Wirtgen to contribute a positive financial contribution in its first year. Though the company has yet to comment on how it will handle cross-selling the Deere and Wirtgen brands, there are already seven Deere dealers in the U.S. that carry Wirtgen machines. Wirtgen's sales are primarily through company-owned sites, with only 30 percent conducted through 150 independent dealers. Deere owns between 10 and 15 percent of its sales locations in North America, but owns many of its forestry sales sites in Europe.
The Wirtgen Group's roots stretch back 56 years to the original Wirtgen brand's founding in 1961. But it wasn't until the late 1990s that the company took on its multi-brand identity with the acquisition of Vögele and Hamm. Since then the Wirtgen umbrella has expanded to include five brands with the additions of Kleemann, Benninghoven and Ciber.
"As we looked to the future, we specifically chose Deere as the buyer because of our long-held respect for the organization and our full confidence that Deere is dedicated to the ongoing success of the Wirtgen Group and our employees worldwide," says Stefan Wirtgen, a managing director for the Wirtgen brand.
"We believe this transaction allows the company to be successful well into the future—independent of our family ownership," added fellow Wirtgen brand managing director Jürgen Wirtgen.