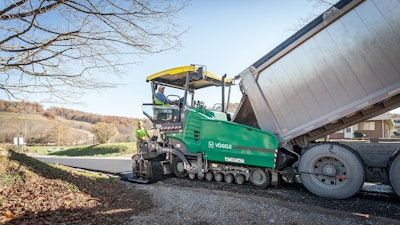 Deere & Company's planned purchase of Wirtgen Group is the culmination of more than a decade of relationship building, the alignment of recent strong financial performances by Deere and a decision by brothers Stefan and Jürgen Wirtgen to exit the family business.
Deere Chairman and CEO Sam Allen says the company identified Wirtgen as an attractive strategic fit for its construction business more than a decade ago.
"While head of the C&F (Construction & Forestry) division in the mid-2000s, I met with the Wirtgen family to discuss the possibility of pursuing strategic opportunities such as this one, and we stayed in close touch ever since," Allen explains.
Since that time, Deere watched the company develop "into a global leader outpacing competitors with its superior product technology and exceptional customer relationships."
"Then, when Stefan and Jürgen Wirtgen decided to sell their business and move on to other opportunities, they reached out to Deere and we were honored they did," he adds. "We're glad from a timing standpoint, but this is just something that we strategically have had in mind for quite some time, and in the absence of a financial crisis, we would have gone ahead and pulled this trigger, because of how attractive it is."
Wirtgen Group reported sales of €2.6 billion (roughly $2.9 billion) in in fiscal year 2016 (ended Dec. 31, 2016) and has forecast sales of roughly €3 billion (about $3.4 billion) for FY2017.
So beyond the financial contribution, which Deere expects will be positive within the first year, Wirtgen's road construction equipment lineup also matches a growing sector in construction, according to Max Guinn, president of worldwide construction and forestry for Deere.
"There's plenty of news out there today about interest in infrastructure investment, so we believe it's an attractive space for Deere and the timing is good," he says. "The deal enhances Deere's global presence, with a complementary product line and no product overlap. It makes C&F a global top three player. This deal also provides an opportunity to leverage the capabilities of our integrated enterprises. You should think about things like electronics, engines, John Deere Finance, etc."
Guinn adds the transportation sector has "growth tailwinds," with an expected compound annual growth rate of 8 percent going forward. "That is not a large increase over the performance of the overall transportation sector over the last decade," he says. "So the trend is not new, but we believe it's increasing. It's also important to recognize that road construction consists of not just new roads, but also rehabilitation of existing roads."
Deere created the below graphic to show how Wirtgen Group products are complementary to its own equipment.
Located in area 1 Quarry are machines from Deere (not shown, Wirtgen's Kleemann brand of mobile crushers and screeners); area 2 Crusher/Screener includes the Kleemann brand; area 3 Milling Machine includes the Wirtgen brand; area 4 Asphalt Plants covers the Benninghoven brand; areas 5 Road Construction Site, 6 Rough Grading and 7 Finishing Grading are Deere machines; area 8 Compactors is the Hamm brand; area 9 Asphalt Paver is the Vögele brand; area 10 Rollers is the Hamm brand again; and area 11 Concrete Paver is the Wirtgen brand.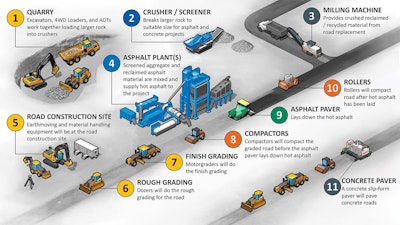 Synergies
As with most purchases such as these, Deere will be leveraging capabilities of both companies, according to Raj Kalathur, senior vice president and CFO for Deere. This ranges from direct and indirect materials from supply base perspective, vertical integration including engines, cylinders, telematics and electronics, using John Deere Financial to enhance sales prospects, and using WorkSite Solutions to connect machines across the road construction process to enhance productivity.
"Over 80 percent of the benefit of these synergies come from cost reductions, largely from direct and indirect materials," Kalthur says.
Proximity is playing a role in this synergy strategy as well. In Europe, 30 percent of the Wirgten supply base is common with Deere. Both companies have facilities in Pune, India, and have locations nearby in Brazil and China.
Deere isn't expecting to align things on the engine side just yet, according to Guinn. Wirtgen doesn't manufacture its own engines, and buys them from several manufacturers.
"Of course, since we manufacture engines we do see that as an opportunity, but we do also recognize that's a very engineering-based change," he says. "It's a very product-oriented change that we'll need to execute very carefully and make sure the product performance matches customer expectations. So we see it as an opportunity, but we're going to pursue it with data and good execution plans."
Distribution network
Guinn says it's a bit early to reveal the strategy for cross-selling the brands internationally, as the company is still reviewing plans.
Currently, there are seven Deere dealers in the U.S. that carry Wirtgen Group equipment. Wirtgen's sales are primarily through company-owned sites, with only 30 percent conducted through 150 independent dealers. Deere owns between 10 and 15 percent of its sales locations in North America, but owns many of its forestry sales sites in Europe.
"Their global distribution network is an opportunity for the C&F business, where we've been largely a North American business over history," Guinn says. "The deal does provide scale and provides a global distributions network. It also enhances our ability to serve key customers, many of which we already know and some of which we'd like to know."