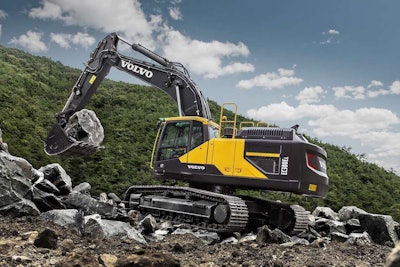 Volvo Construction Equipment has added three new dealers in South Dakota, Iowa and Nebraska.
TranSource Truck & Equipment Inc. is now an official Volvo dealer in South Dakota. In Iowa, Housby Heavy Equipment has become a Volvo dealer, and so has Wise Heavy Equipment in Nebraska.
TranSource takes over in South Dakota
TranSource, based in Sioux Falls, South Dakota, recently bought the assets of Sheehan Mack Sales and Equipment, the former Volvo CE dealer in Sioux Falls. Now called TranSource Truck & Equipment, the dealership will assume the employees, physical property, and territory as part of the agreement.
The new operation in South Dakota is owned by 30-year Sheehan partner Larry Clement, and Dan and James Bland. They own and operate multiple truck dealerships that represent Volvo Trucks and Mack Trucks in North Carolina through sister-company TranSource Truck & Trailer.
Under the dealership agreement in South Dakota, TranSource will continue to offer a full line of Volvo CE equipment, parts and service.
Volvo CE names new dealers in Iowa, Nebraska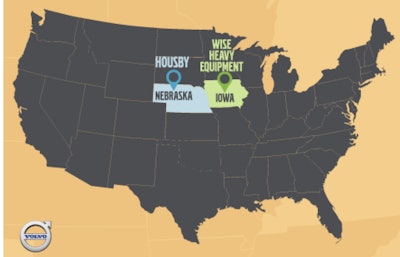 Housby Heavy Equipment and Wise Heavy Equipment are taking over for Volvo's former dealer in these states, Scott Van Keppel (SVK), and will assume SVK's assets and locations.
The Des Moines-based Housby will assume the SVK locations in Ankeny and Cedar Rapids, Iowa. Wise takes over SVK's locations in Omaha.
The two dealers have a combined 84 years of experience in heavy equipment distribution and "have shown tremendous success with Mack Trucks," says Stephan Roy, president of Volvo CE in North America.
Housby was founded in 1969, with locations in Des Moines and Carroll, Iowa, serving the heavy equipment, ready-mix, waste and forestry equipment markets. The company has also been a Mack trucks dealer since 1978.
Wise was a Mack trucks distributor for more than 40 years, owner Bert Wise tells Equipment World. His father, Bert Sr., bought the dealership, which has served customers in the transportation, trucking and railroad industries.