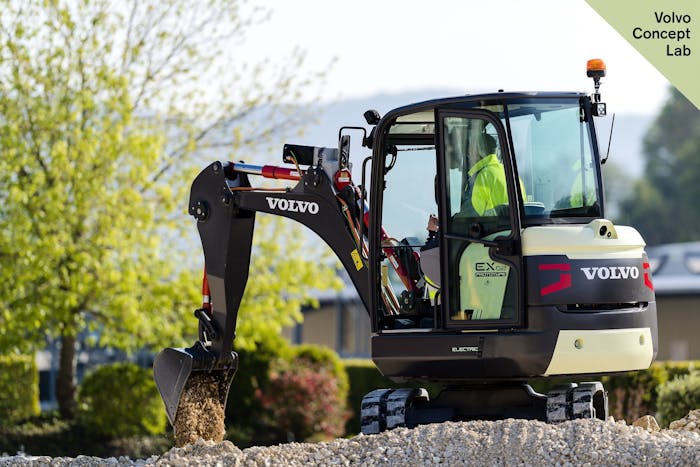 Volvo Construction Equipment has unveiled what the company believes to be the first fully electric compact excavator prototype.
Eight months after unveiling the LX1 hybrid electric loader and the HX1 load carrier prototypes as part of the company's vision for the autonomous and electrified quarries of the future, Volvo has taken the wraps off of its latest prototype, the EX2 compact excavator.
The EX2 is powered 100 percent by electricity. Two lithium ion batteries delivering 38KWh replace a combustion engine and provide eight hours of power to the machine in what Volvo calls "an intense application, such as digging compact ground."
Just Easy Tools has added a 2-ton OTR version of its Easy Gripper tire handler.
The Easy Gripper 2400-T2 is designed as an attachment for forklifts, front loaders and truck cranes. It follows the same three-point grip design as the 1-ton version. It provides a firm grip when pulling wheels and tires off and pushing them on, as well as when loading, unloading and transporting tires inside and outside, the company says. It also gives a precise rotation.
Ford is updating its largest trucks for improved performance and serviceability for the 2018 model year, including adding electronic stability control and traction control brakes as standard on all 2018 F-650 and F-750 tractor models.
The system will initially be optional on certain F-750 diesel air-braked straight trucks with high-center-of-gravity-body upfits.
For tow trucks, road service vehicles and other truck applications with high electrical demands, a high-output 240-amp alternator is now available with the 6.8-liter V10 gasoline powertrain. Ordering the higher output alternator to power auxiliary lights and equipment can eliminate the need to specify a second alternator or generator.
Vermeer says its CC155 concrete cutter is designed to increase roadwork efficiency and minimize lane closures.
The CC155 can handle such diverse applications as road construction and repair, airport lighting projects and demolition work.
A geometric cutter head allows the cut to come from the center of the machine with more precision and power. The 84-inch cutter wheel has a cutting width of 4.8 inches and a cutting depth of 31 inches.
The design of construction machines doesn't change much through the decades, but the Pro-Handler, if nothing else, takes the standard skid steer and stretches its capabilities.
Hand-built as a proof of concept by Extend Manufacturing, the Pro-Handler offers an extendable rear section that also lengthens the wheelbase, an extendable boom (similar to JCB's new Teleskid) and four-wheel drive hydraulics to power the front and rear wheels.
With front and rear extendibility, the machine can serve as a rough terrain handler offering a 14-foot telehandler height, an aerial work platform that goes to 19 feet as well as doing all the things a normal skid steer does with attachments.
Watch a video of the Pro-Handler in action and read the full story here.
Less than a year after entering the home/outdoor power market with a lineup of portable generators, Caterpillar is increasing the lineup's power range with a new model.
The new Cat RP12000 E delivers 12kW of power from a 670cc V-Twin engine with a fully pressurized oil system. The all-copper generator delivers up to 15kW of surge power, enabling it to power more equipment and heavy loads.
A low idle option allows users to cut down on noise, fuel consumption and engine wear. Further cutting down on noise levels are a custom muffler and the placement of the fuel tank on top of the engine as opposed to the side tank placement seen on other generators. Cat says this top tank placement also prevents damage from vibration.