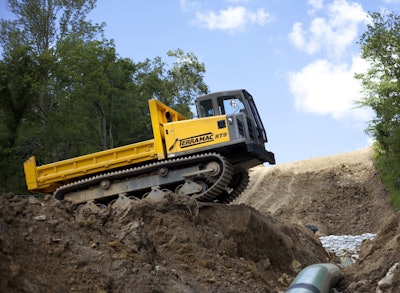 Though the increase wasn't as substantial as the two months that preceded it, the U.S. construction industry notched a seventh straight month of jobs expansion in March.
The industry now employs 6.882 million Americans, a 2.6-percent increase over the March 2016 figure, according to preliminary data from the Labor Department.
March's report also brought a revision to the February total, bringing employment gains during that month up from the previously reported 58,000 jobs to 59,000 jobs. The February increase is the second-largest addition of jobs to the industry in the last 10 years.
Thunder Creek Equipment has added Caterpillar dealer Altorfer Inc., headquartred in Cedar Rapids, Iowa, to its dealer network, providing service in central Illinois, eastern Iowa and northeast Missouri.
Altorfer, which recently celebrated 60 years in business, has 23 locations in 18 cities across the three states and more than 700 employees.
Through the agreement with Thunder Creek, Altorfer will will sell and service the company's line of DEF and service products, such as Multi-tank Trailer and Service and Lube Trailers.
Crawler carrier manufacturer Terramac has added C.N. Wood to its North American dealer network to provide coverage in Massachusetts and Rhode Island.
"C.N. Wood is a long standing dealership with an experienced team, who's dedicated to providing their customers with the best possible equipment, service and support," says Terramac Director of Sales Matt Slater. "C.N. Wood is a welcomed and valuable addition to our dealer network."
Terramac reports C.N. Wood will offer its RT9, RT14 and RT14R crawler carriers with customized attachments such as cranes, personnel carriers, water tanks and hydroseeders.
Crafco Inc. reports it has entered in an agreement to purchase the assets of Crafco Texas Inc.
"We are pleased to have been presented this opportunity to purchase this business and are excited about the future possibilities presented to us because of the acquisition," the company reports.
Crafco says the purchase combines the assets of one of its long-standing independent distributors to expand the company's locations, sales and service within Texas. The company will operate a Pavement Preservation Supply Center in San Antonio and market and supply Crafco products at a new location set to open in Farmers Branch the beginning of May.
With not much more than two months to go, the Occupational Safety and Health Administration is putting the brakes on its crystalline silica standard for the construction industry.
Enforcement of the rule (OSHA 1926.1153 Respirable Crystalline Silica Standard) was scheduled to take effect June 23. OSHA will delay that date to September 23. The ruling specified how much breathable silica-containing dust would be allowed on any jobsite and required construction companies to take action to reduce that dust if it exceeded the limit.
The primary focus of the rule is on applications involving concrete or stone sawing, drilling, jackhammering, milling, crushing and grinding; but also includes brick manufacturing and hydraulic fracturing or fracking. Table 1 in the OSHA guidelines prescribes two methods of controlling the dust—wet processes where water keeps dust down, or vacuum assisted methods where a vacuum attachment is placed on or close to the cutting or drilling activity.