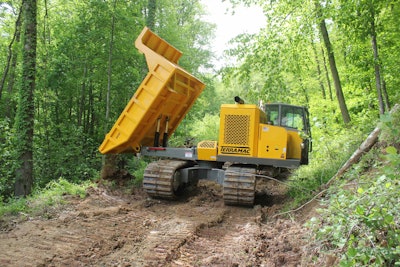 Crawler carrier manufacturer Terramac has added C.N. Wood to its North American dealer network to provide coverage in Massachusetts and Rhode Island.
"C.N. Wood is a long standing dealership with an experienced team, who's dedicated to providing their customers with the best possible equipment, service and support," says Terramac Director of Sales Matt Slater. "C.N. Wood is a welcomed and valuable addition to our dealer network."
Terramac reports C.N. Wood will offer its RT9, RT14 and RT14R crawler carriers with customized attachments such as cranes, personnel carriers, water tanks and hydroseeders.
"We choose to align ourselves with top line manufacturers that offer value in their products and help our customers solve problems in specific applications," says Jim Maxwell, C.N. Wood general manager.  "Terramac does just that. We look forward to making our customers more competitive in their business with Terramac's versatile crawler carriers."
C.N. Wood was founded in 1964 selling snow removal equipment. The dealership has three locations in Massachusetts and one in Rhode Island, and also carries equipment from Komatsu, Bomag, Elgin, Esco, Green Machines, Gradall, Hensley, Lemac, Madvac, New Way, NPK, Rockland, Rogers and Vactor, among other brands.