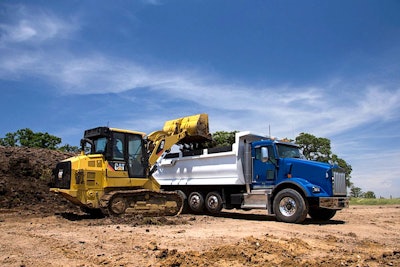 The Cat 953K Track Loader moves 22 percent more material with 22 percent less fuel than its predecessor, the 953D, and comes with an updated cab and safety features.
The track loader's 173-horsepower Cat C7.1 ACERT engine is also quieter than the 953D. And an Eco Mode "automatically reduces engine speed but maintains selected ground speed when the machine is under a tight load," the company says.
The 953K weighs in at 34,484 pounds has a bucket hinge pin height of 142 inches and features a bucket capacity range of 2.1-2.5 cubic yards. Customers can choose the Performance Series bucket, which moves up to 10 percent more material per hour than the 953K's standard bucket. The Fusion Quick Coupler, expected to be available in mid-2017, is designed to allow easier use of tools such as wheel loader buckets and forks.
Case Construction Equipment has expanded its D-Series lineup of excavators with the addition of the CX750D, now the largest and most powerful machine in the lineup.
Powered by a 512-horsepower, Tier 4 Final engine requiring no diesel particulate filter (DPF), the CX750D features new designs for the boom, arm and undercarriage along with a larger cab. It also benefits from a number of improvements seen across the D-Series lineup.
This new 750 model will replace the CX700B and the CX800B.
Vögele launched two new universal class 8-foot pavers at the 2017 ConExpo show with the Super 1700-3i tracked paver and Super 1703-3i wheeled paver. The machines offer several new features that are firsts for the North American market.
The company says the machines are designed for work in both confined conditions and on highway jobsites, hence the universal class moniker.
"These are North American style pavers," says Jim Holland, vice president of sales for Vögele for North America. "What we mean by that is most of this machine is similar to what the worldwide machine is. The screed behind is different in North America, which use compaction-type screeds. The rest of the world uses vibratory-only screeds. Our paving speeds and our maneuver speeds are a little bit higher here in North America from what you'd see in other places other than Australia and New Zealand, which is very similar to what we do."
John Deere has introduced two updated models to its E-Series articulated dump truck lineup. The 260E and 310E ADTs feature updated styling, cabs, frames and axles from their D-Series predecessors.
Both models run on a John Deere PowerTech 9-liter Final Tier 4 engine. The 26-ton 260E is powered by a 321-horsepower engine, and the 31-ton 310E has 354 horsepower. The ZF transmission increases the trucks' retardation capacity by 125 percent over previous models. It comes with eight forward and four reverse gears.
For battling soft or steep terrain, a new automatic differential lock provides cross-axle differential lock and inter-axle differential lock options. The axles are designed for heavy-duty applications, and an optional cooling package is available for extreme conditions. Deere added hydraulically actuated wet disc brakes in all three axles.
Touting a payload measurement system that comes standard, Hyundai has introduced two new models the company says are meant to fill gaps in its HL-Series lineup of wheel loaders.
Powered by Cummins engines and available in a long boom, extended reach (XT) configuration, Hyundai introduced the new HL965 and HL975 loaders at ConExpo 2017. The company also introduced an XT configuration for its HL940 loader at the show. Hyundai's XT lift arms provide about 14 inches of additional dump height and reach.
The HL975 is powered by a Cummins QSG12 engine delivering 331 net horsepower and comes equipped with a standard 6.3-cubic-yard bucket. Hyundai says the machine is geared toward the aggregates industry, adept at digging and loading in quarries, gravel pits, surface coal mines and other high-production applications. The machine weighs in at 58,420 pounds and has a rated tipping load of 44,090 pounds.