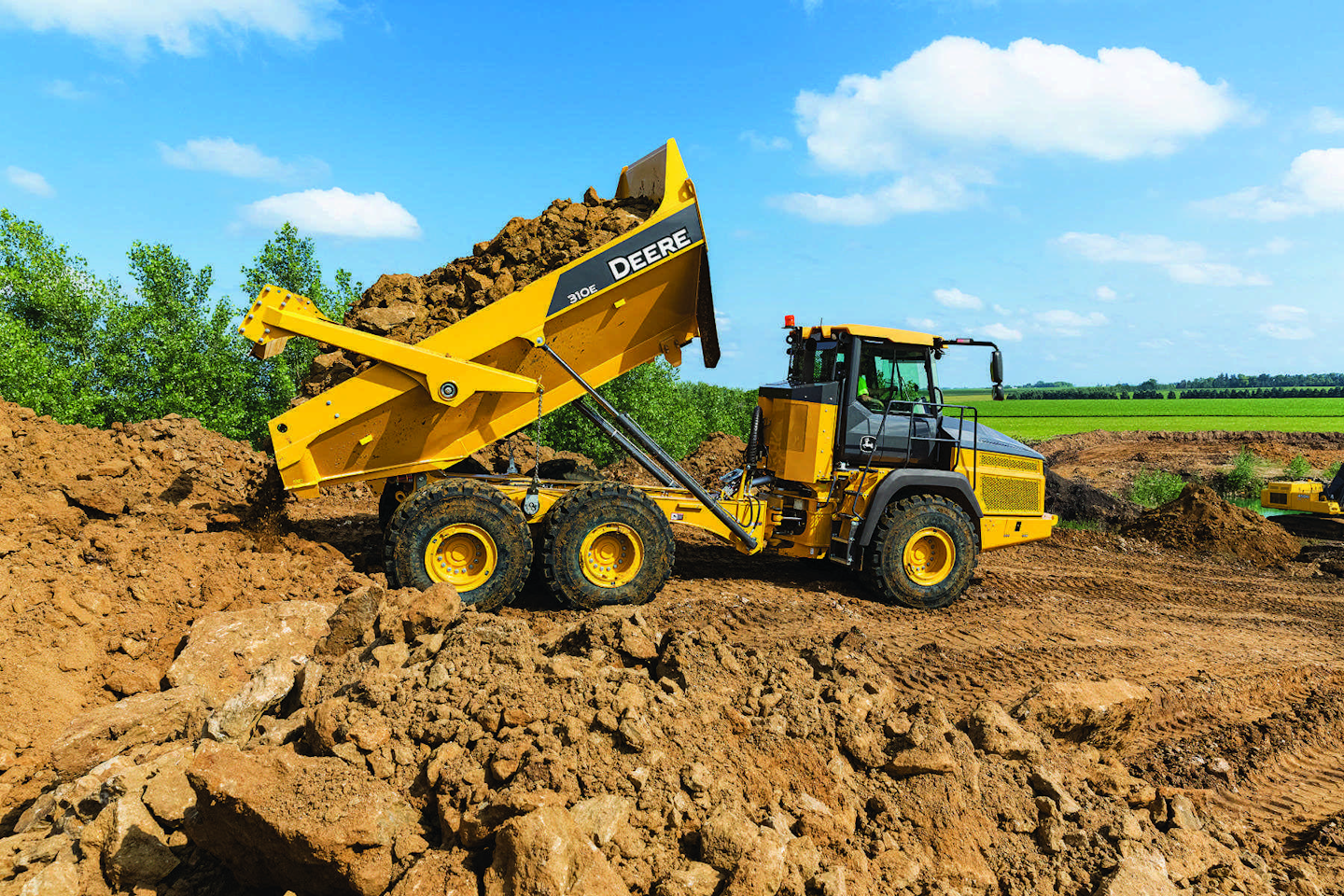 John Deere has introduced two updated models to its E-Series articulated dump truck lineup. The 260E and 310E ADTs feature updated styling, cabs, frames and axles from their D-Series predecessors.
Both models run on a John Deere PowerTech 9-liter Final Tier 4 engine. The 26-ton 260E is powered  by a 321-horsepower engine, and the 31-ton 310E has 354 horsepower. The ZF transmission increases the trucks' retardation capacity by 125 percent over previous models. It comes with eight forward and four reverse gears.
For battling soft or steep terrain, a new automatic differential lock provides cross-axle differential lock and inter-axle differential lock options. The axles are designed for heavy-duty applications, and an optional cooling package is available for extreme conditions. Deere added hydraulically actuated wet disc brakes in all three axles.
The trucks' stay-tight oscillation joint, standard adaptive front suspension and balanced weight distribution provide stability when traversing rugged terrain. To prevent rollover, the driver can restrict the dump body from rising when the rear chassis exceeds a predetermined slope.
The trucks' interior is quieter, with decibel levels cut in half from previous models, Deere says. An LCD screen provides onboard diagnostics, digital gauges and vital system indicators. Owners can also set the auto-shutdown function to turn off the engine when it has been inactive for a specified amount of time.
Standard features on the 260E and 310E include auto dump, descent control, shuttle shifting, hill hold and load assist. Access points for maintenance are centralized at ground level.