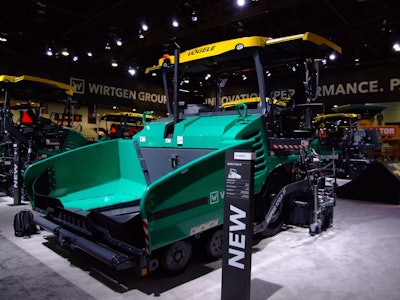 Vögele launched two new universal class 8-foot pavers at the 2017 ConExpo show with the Super 1700-3i tracked paver and Super 1703-3i wheeled paver. The machines offer several new features that are firsts for the North American market.
The company says the machines are designed for work in both confined conditions and on highway jobsites, hence the universal class moniker.
"These are North American style pavers," says Jim Holland, vice president of sales for Vögele for North America. "What we mean by that is most of this machine is similar to what the worldwide machine is. The screed behind is different in North America, which use compaction-type screeds. The rest of the world uses vibratory-only screeds. Our paving speeds and our maneuver speeds are a little bit higher here in North America from what you'd see in other places other than Australia and New Zealand, which is very similar to what we do."
"These machines also have canopies on them, something you haven't seen at our stand for North America before," he adds. "That's an option that I felt was important to show with this different series. What better way to do that than to have yellow canopies."
The pavers offer the company's ErgoPlus 3 control system, with operating consoles that are similar for both the driver and screed operator, with multiple machine functions being accessible at both consoles. Operators can access the back-lit push-buttons even while wearing work gloves.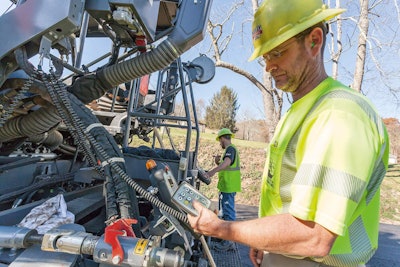 "Our ErgoPlus3 control system is new for the North American market as well," Holland says. "They have color displays so they're more visible than the monochrome display was. We've also added some very intuitive functions going into the screens, like some of our competitors have done, and we have done in the past. We've learned from that and it's very intuitive like your smartphone is. They have smart screens, they come up you press an auger function for example, and it automatically pops up the screen so you know what the percentage is."
Both machines offer a maximum paving width of 19 feet, 6 inches with the front-mounted VF 500 Extending Screed and hydraulic bolt-on extensions. The ErgoPlus 3, the company says, allows the screed to be adjusted infinitely variably ranging from 8 feet to 15 feet, 6 inches without the bolt-on extensions.
The receiving hopper for the machines has a capacity of 14.3 tons, and they have laydown rates of up to 770 tons per hour.
The Super 1700-3i and 1703-3i feature a liquid-cooled 4-cylinder, 179 horsepower Cummins diesel engine running at 2,000 rpm normally, and at 1,700 rpm in ECO mode. The Super 1703-3i is available in 6×4 and 6×6 drive.
"On the wheeled machine, one of the big differences is that we switched tires to a radial tire," Holland says. "That's been a key point for a lot of contractors that have come in to see us this week at ConExpo."