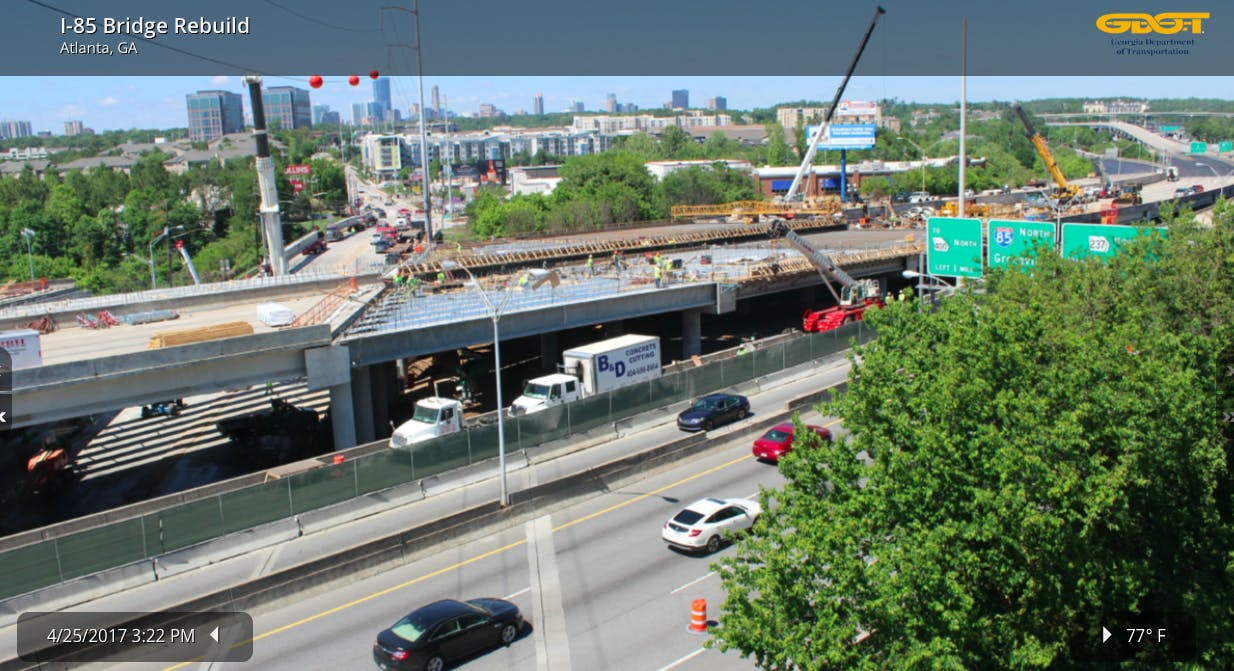 The Georgia Department of Transportation (GDOT) closed Piedmont Road overnight April 25 to allow contractor C.W. Matthews to set the last of the 61 beams for the I-85 bridge reconstruction project.
"This stage of the project represents yet another critical milestone in (GDOT's) stated goal of reopening I-85 on or before June 15," the agency reports.
"We are taking advantage of innovative construction technology, like quick curing concrete, to get this roadway open to the public as quickly as possible without jeopardizing safety," says GDOT Director of Construction Marc Mastronardi. "There are a lot of moving parts involved with this project that may affect the end date, but we are impressed with the rate at which work is being done. We are confident this major artery will be open for travel by June 15 at the very latest."
The contractor has placed deck spans for five of the six spans and has added reinforced steel to two of the six deck spans. Crews will now be pouring the decks and then the concrete barrier sides for both northbound and southbound sides of the roadway.
Mastronardi reports the total demolition cost for the project is $1.6 million and the estimated construction cost is $11.9 million, bringing the total to $13.5 million. Incentives to finish earlier, in May for example, could add another $3.1 million, making the total cost for the project $16.6 million.
The agency is offering an additional $1.5 million to the contractor if the work is completed by May 25, an additional $2 million if completed by May 21, and an additional $200,000 for each day completed before May 21, with a maximum amount of $3.1 million.
To provide visual updates on the constant work on the project, OxBlue is providing a live video photo and access to time-lapse photos here.
GDOT also is making the most of the limited traffic in the area by also beginning a resurfacing project on more than 6 miles of I-85 near the bridge reconstruction site. C.W. Matthews is one of two contractors performing the work, with a scheduled finish date of Feb. 28, 2018. No daytime lane closures will be in place on weekdays during the project.