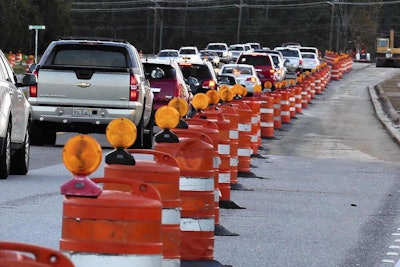 The Wisconsin Department of Transportation (WisDOT) started a new program to keep drivers safe and traffic moving in construction zones, weareGreenBay.com reports. The Freeway Service Teams program, which is free to drivers, focuses on getting stranded or broken down vehicles off the road as quickly as possible.
It was initiated the week of April 19 to keep traffic moving on 16 miles of Interstate 43 in Brown and Manitowoc counties where construction has traffic reduced to one lane in each direction until the fall.
"The effects of a car broken down on the side of the road can have really disastrous results," Mark Kantola, regional communications manager for WisDOT, told the news agency, adding that, by removing disabled vehicles from construction zones quickly, WisDOT hopes to keep everyone safe. "It's all about a safety thing, we certainly don't want to see anybody hurt up there."
"The world has got itself in a big hurry," said Kevin Paschen, a driver for WisDOT's Freeway Service Teams who was brought in to help with the program, according to the news agency. "Our job out there is to basically keep traffic moving. We run both north and south, keep making round trips, and look for anybody that needs help," he added, explaining that the teams would patrol the construction zones every day during peak hours.
"They are literally minutes away from you if you break down, run out of gas, your car overheats, if your tire pops and you need to change it," Kantola added, according to the news agency. "It's those little things that really impede traffic."