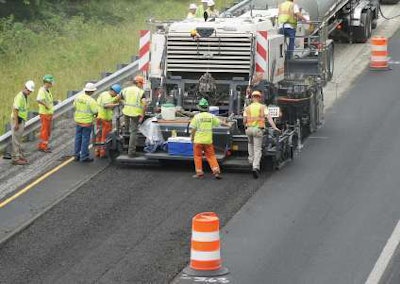 The Wisconsin Department of Transportation (WisDOT) says four cold-in-place recycling projects this year show and average cost savings of 17 percent per mile compared to mill and overlay work. Total savings reached $1.47 million.
The agency says it was able to reuse approximately 93,450 tons of material on resurfacing 28.47 centerline miles. This would be enough material to fill more than 4,600 quad-axle dump trucks, WisDOT reports.
"With cold-in-place recycling, we're reducing the cost to taxpayers while also cutting down on project time and the associated delays for drivers," says Barry Paye, engineering chief in the Materials Management Section of WisDOT's Bureau of Technical Services. "To put it in perspective, we would have had enough dump truck loads of material from this year's projects to stretch a line of dump trucks more than 22 miles. That's important, because as those trucks stay parked, we save on fuel and create less wear and tear for our highways."
Across the state since 2012, the agency has used cold-in-place recycling in seven different road projects. It says the technique works best for roadways "where the pavement surface is worn and cracked but the subgrade below is still firm and in good shape."
Other benefits WisDOT found in the technique include:
• Reduction in project time, which reduces delays and inconvenience to road users
• Reducing the need for material hauling and significantly reducing trucking costs
• Reduction in the need to purchase and use new materials
• Lower initial cost and typically lower maintenance needs compared to traditional method
• Reduction in cracking because of increased durability
The first cold-in-place recycling project the agency completed was Wisconsin 48 from Grantsburg to Frederick in Burnett/Polk counties. In repeated studies, WisDOT found cold-in-place recycling reduced cracking by 90 percent and has provided a 15 percent better pavement performance rating compared to conventional mill and overlay.