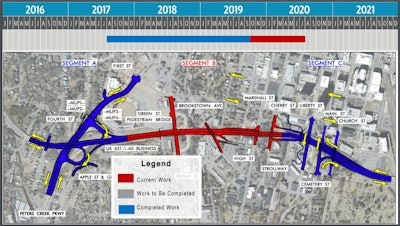 The North Carolina Department of Transportation (NCDOT) has awarded a $99.2 million contract for reconstruction of a 1.2-mile stretch of Interstate 40 Business/U.S. 421 in Winston-Salem, dubbed the Business 40 Improvement Project.
The agency awarded the contract to a team made up of Flatiron Constructors Incorporated/Blythe Development Company Joint Venture and HDR Engineering Incorporated. NCDOT says the team, under one contract, will develop the design, purchase the right of way, obtain permitting, coordinate utility relocation and construct the project.
"Allowing the design and construction to overlap expedites construction, enhances innovation and constructability, and may reduce costs," the agency reports.
"Never before in the history of the state of North Carolina has Business 40 been closed in both directions for a highway project, and never before has our community so greatly needed work like this to take place," says NCDOT Division 9 Engineer Pat Ivey.
The project will include the following updates:
• Upgrading the entrance and exit ramps that remain; eliminating some entrance and exit ramps such as those at the Broad Street interchange and lengthening some entrance and exit ramps, including those at Marshall and Cherry Streets
• Replacing the bridges on and over Business 40 with new structures that will meet current and future traffic demands
• Removing the existing Business 40 pavement and replacing it with new pavement
• Aesthetic enhancements to the roadway and some of the bridges
NCDOT expects construction on one section, the Peters Creek Parkway, to begin next summer and be completed by winter 2018. The full closure of Business 40, which could last two years, is expected to start in late 2018 or early 2019 after the Peters Creek Parkway is completed.
More details on the Business 40 Improvement Projects are available at https://business40nc.com/.